Vineyards and Small Farms
Renowned for its cuisine and fine wines, Burgundy is the birthplace of such quintessentially French specialties as boeuf bourguignon, coq au vin and escargots. It's no surprise, then, that this region of superb gastronomy should produce another culinary masterpiece in the Lacanche range.
Lacanche village is in the Côte d'Or (literally, golden hill) quadrant of Burgundy, where the waters of four major rivers run in three directions: towards the Mediterranean, the English Channel and the Atlantic Ocean. With its varied landscape, Cote d'Or produces some of Burgundy's most prestigious wines and is crisscrossed with canals and dotted with vineyards and small farming villages.
 Jean-Jacques reflects on French cuisine & the core values fueling Lacanche
Chauffeur-driven Motorcars
Many Lacanche owners are curious about the culinary heritage of their beloved stove. According to local residents, the "Route de Paris-Lyon" (N6) factored prominently in the culinary history of the region. During its heyday in the early-1900s, Parisian families in large chauffeur-driven motorcars would arrive, looking for a fine meal and place to stay the night. The steady influx of affluent travelers supplied clientele for a burgeoning list of talented chefs and inns along the route.
Restaurants and hotels in this mostly agricultural region struggled when the new new Paris-Lyon autoroute (A6) arrived over recent decades, as sparsely distributed exits often deposited visitors miles from their intended destination. However, the resurgence in fine cuisine has more recently assisted with economic revival and the rebuilding of some of these once famous establishments.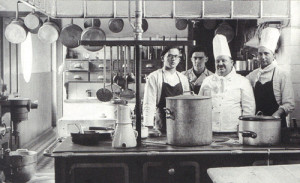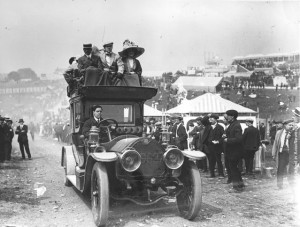 No story more prominently reflects local haute cuisine culture than la Côte-d'Or. "Alexandre Dumaine, the chef at L'Hostellerie de la Côte-d'Or, with its Michelin three-stars, used to act as host in those days to the entire jet set of Europe, on their way down to the Riviera or over to the Alps. This was the historic property that caught Bernard Loiseau's eye and he decided to breathe life back into this legendary hotel". See: bernard-loiseau.com for further reading and reservations.
Cuisine and Fine Wine
For gastronomes, look no farther than Burgundy for the greatest concentration of fine dining on the planet. The Art Culinare philosophy on food and travel experiences in France is this: explore the markets and little boulangeries for farm fresh regional food; try to stay in farm gites or one-star hotels in non-tourist areas; then, if budget permits and you're still happy with your travel companions, use your savings to splurge on a two or three-star restaurant dining experience. Plan to invest -not spend- three or four hours in leisurely conversing and delighting the palate.
Chez Camille represents timelessness in a little 1800s roadside inn along the N6 autoway, about five miles from Lacanche. Most Lacanche folks will enjoy staying here for a night or two while you explore the region. Beaune is also fabulous little medieval town nearby, worth exploration for a night or two. Lacanche owner, Marjorie Taylor, runs her Cooks Atelier cooking school in Beaune village…also definitely worth a reservation. View Marjorie's atmospheric culinary tour of Burgundy here.
SaveSave