Why Gas Cooktops?
Gas cooktops/burners have been preferred by professional and home chefs alike for their instant power, precise control and ease of use. Gas burners can accommodate any type of pot or pan while also allowing for easy adjusting and maximum heat control. Lacanche burners are made up of two parts, both removable. The base of the burner is comprised of cast aluminum, while the actual burner cap is 100% machined brass. Both can be easily removed in order to clean the cooktop (or hob).
The grates on the cooktop consist of kiln-fired enamel over solid cast iron. Each provides sturdy and durable support with rubber bumpers, enabling pots and pans to rest securely. Designed for optimum performance, efficiency and cleanability, Lacanche grates offer a lifetime of service with minimal care.
Please note: all open-flame burners will adjust down to 25% of their top BTU capacity. While this affords a flexible range of heat achievable on your cooktop, in order to reach a true simmer, you must either use the Traditional Plate, the Portable Simmering Plate or use a stand-alone heat diffuser for a single burner. Keep in mind, even a candle flame registers at 1,400 °C (2,600 °F).
Classique and Traditional Cooktops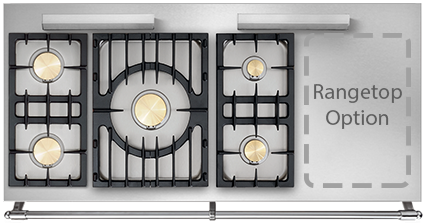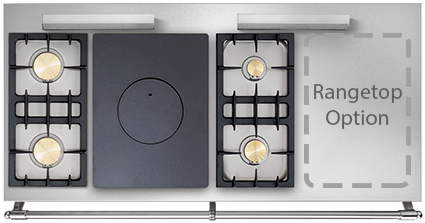 Each "5-feux" range top can be configured to one of two different range top styles: Classique or Traditional. Larger ranges allow for more custom options. The Classique top has a large, open 18,000 BTU burner in the middle of the range top while the Traditional top has a large, cast iron simmer plate covering the central 18,000 BTU burner.
Classique Burner
Designed to deliver intense heat on demand. At 18,000 BTUs (5.5kW) of raw power, searing wok temperatures are reached within moments. Stock pots boil in a  fraction of the time. Canning fresh fruits and vegetables becomes a pleasure again. This burner unleashes full-spectrum high-heat necessary for many ethnic and professional cooking applications, and unreachable with standard appliances. Since simmering is a vital component of Mediterranean and French cuisine (sauces), each Classique range includes one removable simmering plate that fits over two side burners with the grate removed. The heavy cast iron plate will absorb the high intense heat of the burner flames and spread it over a wider area, thus reducing the actual temperature of each burner.
Traditional Plate
Offers the same BTU output as Classique, while diffusing heat gently (think: s-l-o-w), due to thermal mass of heavy cast iron, even with center ring removed. Rests on the cooktop, and although quite heavy for some folks, can be removed for periodic cleaning. If desired, increase heat available directly to your pot by removing the center ring. A wok adapter (included with every range) rests securely in the open hole with center ring removed. Why is the "Trad Plate" a favorite? In a word: stress. When guests arrive late, your soups and sautés will be hot and ready. Plate can remain warm even hours after flame is extinguished.
For ranges with a large enough chassis to accommodate optional burners on the cooktop, there are the following "Rangetop Options."
Cooktop Options
| | |
| --- | --- |
| | Classique Burner: this 18,000 BTU open burner provides the quickest and most efficient heat transfer for large pots and woks. This power house burner is perfect for stir frying, searing, and bringing large quantities of water to a boil quickly for stocks, canning and pressure cooking. $950 |
| | Traditional Plate: also at 18,000 BTU, the cast iron "Trad Plate" offers a controlled-heat surface designed to achieve the perfect simmer for the most delicate sauce. Heat concentrates in the center of the plate and radiates outwardly from the heat source allowing use of the entire surface area of the plate throughout by multiple pans. $1,200 |
| | (2) 15,000 BTU Burners: if you are looking to add a pair of burners to your cooktop and want a bit more "oomph" than a pair of 11,000 BTU burners, this addition to your cooktop is recommended. Sauté with ease and bring pots of water to boil in mere minutes. $975 |
| | (2) 11,000 BTU burners: we consider this to be your "everyday" burner option and an ideal way to round out your cooktop to make it as versatile as possible. Remember, smaller burners allow correspondingly lower heat output. $900 |
| | Plancha: this high-heat griddle option (made of chrome-plated steel) compares with teppenyaki grills in Japanese restaurants. The design and high-heat features of the plancha are ideal for searing meat, seafood, or vegetables and provides a very healthy way to prepare your family's meals. Heat intensity can be easily adjusted. $1,500 |
| | Flame Grill: looking to extend your grilling season all year 'round? The flame grill essentially brings your outdoor grill indoors. Generates controlled heat, without food juices dripping onto the heating elements, resulting in a healthier style of cooking. Cook quickly using radiant heat for meats, fish, or seafood to retain flavors. Includes ceramic briquette kit (retail value of $300). Flame Grill option only available on models with a warming cupboard. $2,750 |
| | Multi-Cooker: Properly dubbed for its namesake, the Multi-Cooker is a culinary tool with multiple functionalities. It can be used as a steam cooker, a waterbath for cooking pasta or boiling vegetables, or as a bain-marie. Read more about the multi-cooker. $2,900 |
| | Induction Rings: Powered via electromagnetic fields, induction allows for rapid and precise heat adjustment. The induction rings require ferromagnetic cookware (cast iron magnetic stainless steel). Two cooking zones are offered: 145 mm diameter (1400W - 1800W) & 200 mm diameter (1850W - 2500W). Read more about the induction rings. Verify cooktop compatibility with the Configurator. $1,850 |