This month's recipe is a special request from our followers on Instagram! We were asked to make Tartiflette on our Lacanche range, and so we did! It gave us the opportunity to try out the signature oval gratin  from Falk Copperware.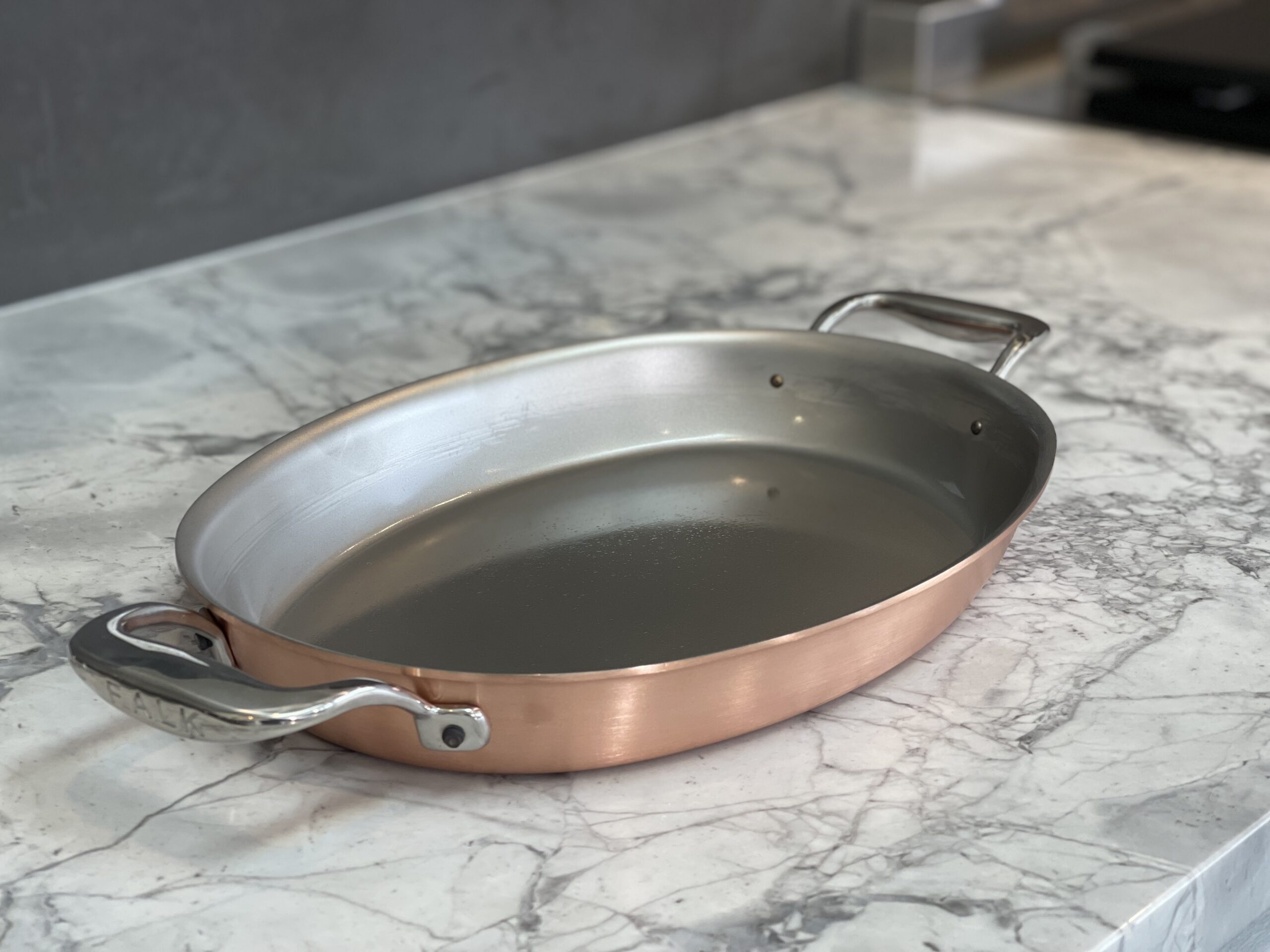 The Gratin Pan
This petite pan is as functional as it is adorable. The material, when heated properly, is inherently non-stick if used with a light coating of oil or butter.
The intuitive shape of an oval gratin pan allows the priority to be on the crust, a characteristic feature of an Au Gratin dish. Also, with the pan's aesthetic, the food was ready for the table as soon as it came out of the oven!
We found that the 11.8 in x 7.9 in size fit perfectly in our Cluny sized oven. The oven's smaller compartment concentrates heat on food which results in well-browned, moist dishes that are rich in flavor, making it a favorite among many users.
.
Origins
Tartiflette is a relatively new dish, created in the 1980s. The dish is an updated version of pêla (from the Aravis in Haute-Savoie) and was invented as a way to promote the sales of Reblochon cheese. The name "Tartiflette" is derived from the local word for potato, "tartifla", and has since become a classic winter dish that is particularly enjoyed in mountainous regions where hearty, warming food is appreciated. It is made by cooking the potatoes separately before layering them with bacon, onions, cheese, and cream. The dish is then baked until the cheese is melted and bubbly. Tartiflette has evolved over the years, with variations that incorporate mushrooms, herbs, and other vegetables, adding to its versatility and appeal.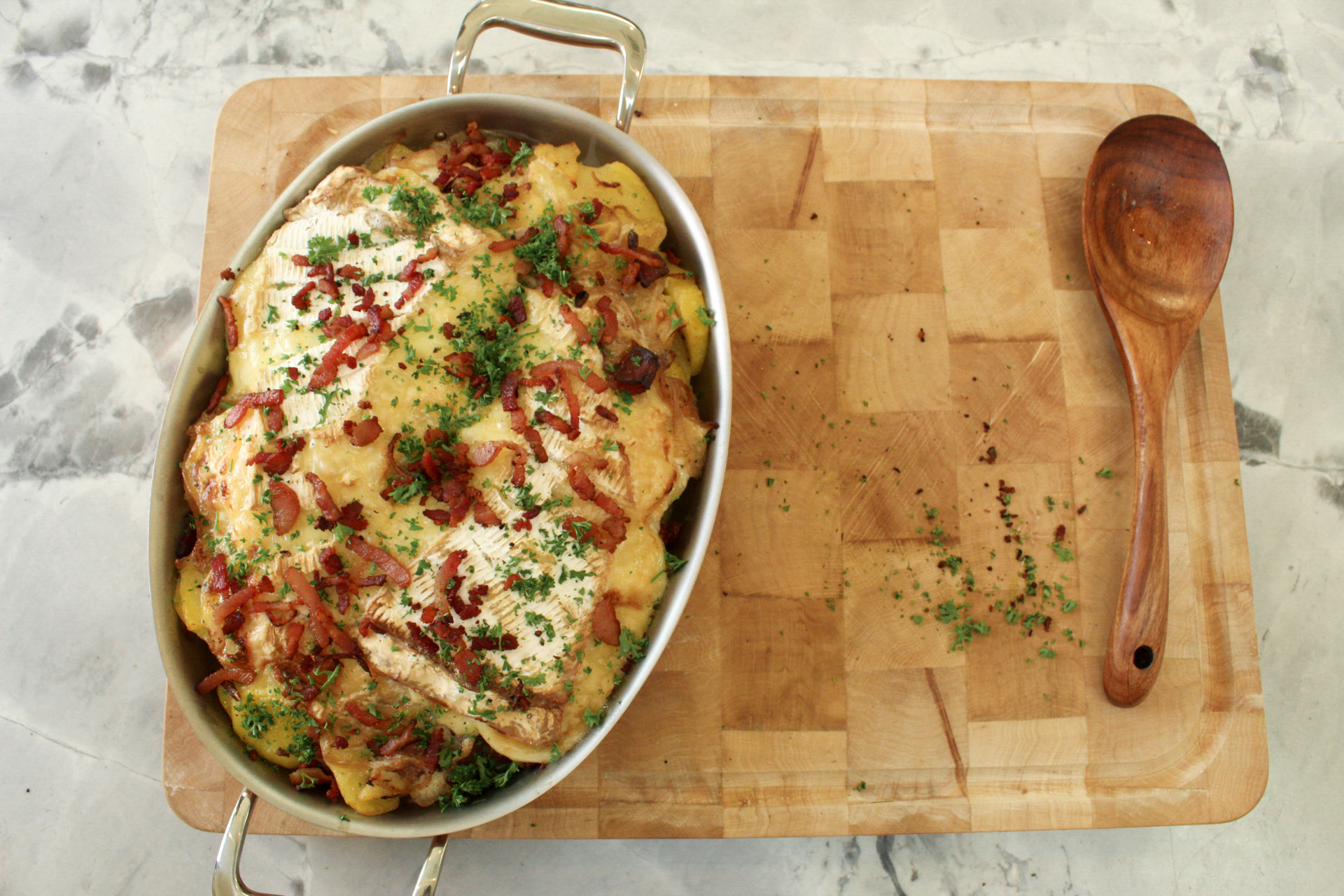 Ingredients:
2 pounds of Yukon Gold potatoes, peeled and sliced into 1/4-inch rounds
1/2 pound of slab or thick-cut bacon, cut into small pieces
1 large onion, thinly sliced
1/2 cup of dry white wine
3 fresh thyme sprigs
½ cup of heavy cream or crème fraîche
1 pound of soft-rind cheese, sliced
Kosher salt
Fresh ground pepper, to taste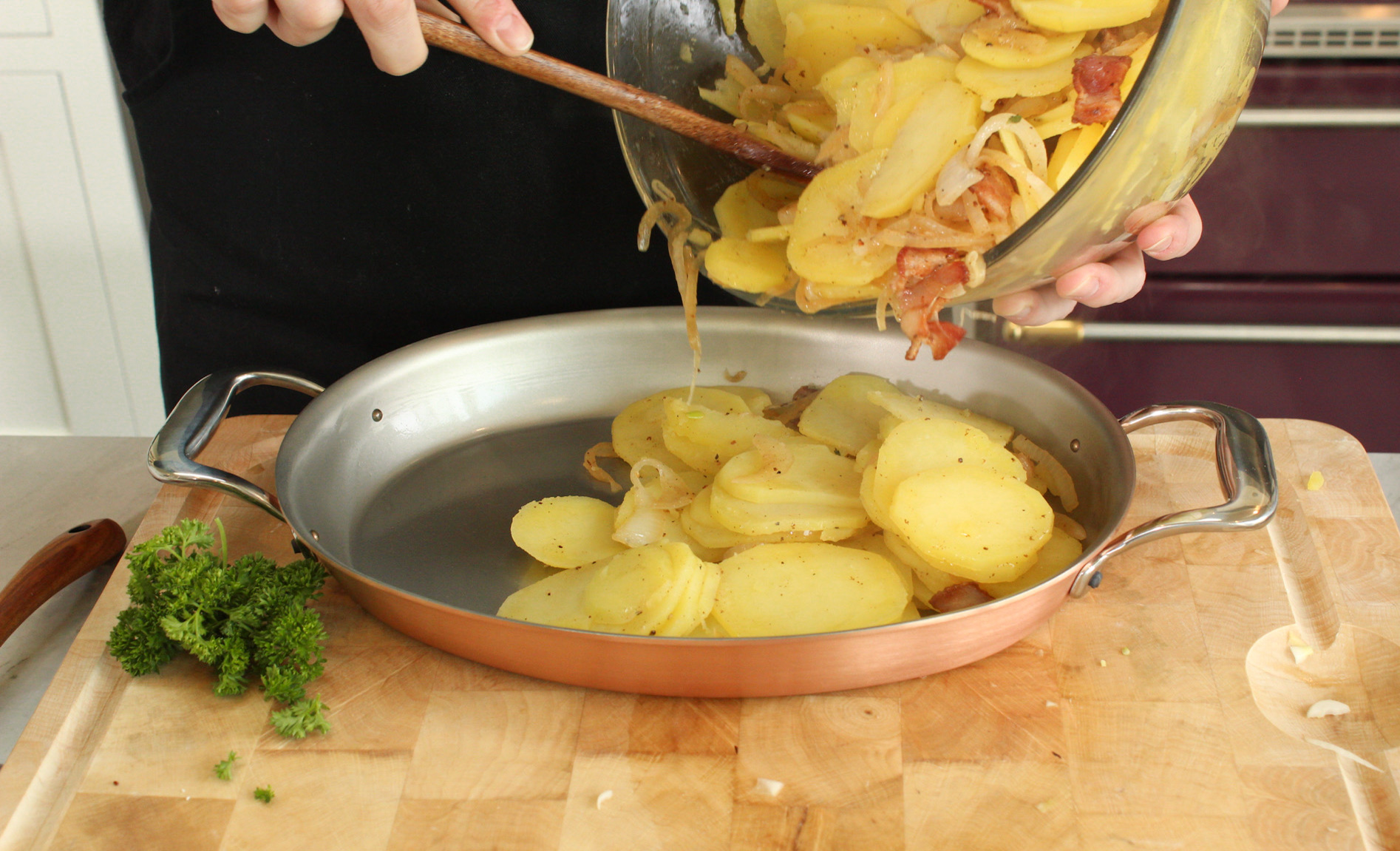 Instructions:
Preheat your oven to 350°F (175°C).

Peel and cut potatoes. Put them in a pot and fill with cold water. Season generously with salt and add thyme then bring water to a simmer. Cook until potatoes are tender, about 25 minutes. Discard thyme, drain, and set potatoes aside.

In a large skillet, cook the bacon over medium heat until they are crisp and browned. Set them to the side of the pan.

In the same skillet, sauté the onion until it is softened and lightly browned. Season with salt and pepper to taste.

Pour in the white wine and bring the mixture to a simmer.

Combine with the sliced potatoes

Layer half of the potato mixture in a baking dish, then top it with half of the cooked bacon and half of the sliced soft-rind cheese.

Bake the Tartiflette in the preheated oven for 25-30 minutes, or until the cheese is melted and bubbly and the top is golden brown.

Allow the Tartiflette to cool for a few minutes before serving. Garnish with chopped fresh herbs, if desired.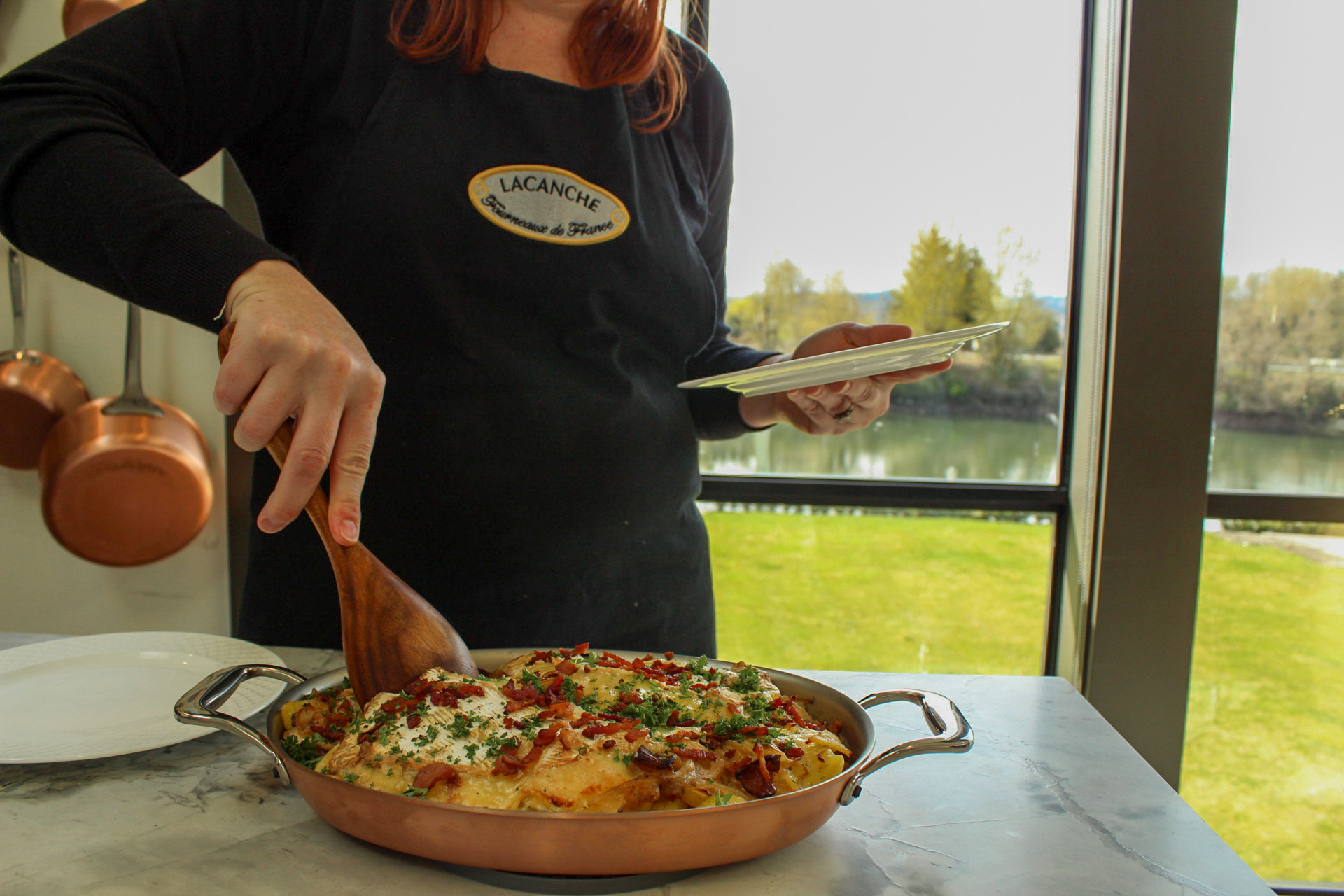 Ready to Eat!
Simple and full of flavor; Tartiflette can be made as a casual meal or as a stunning side dish. You can't go wrong! We know we're sure looking forward to the next time we get to put our gratin pan to good use.
See us make this dish in the video below!