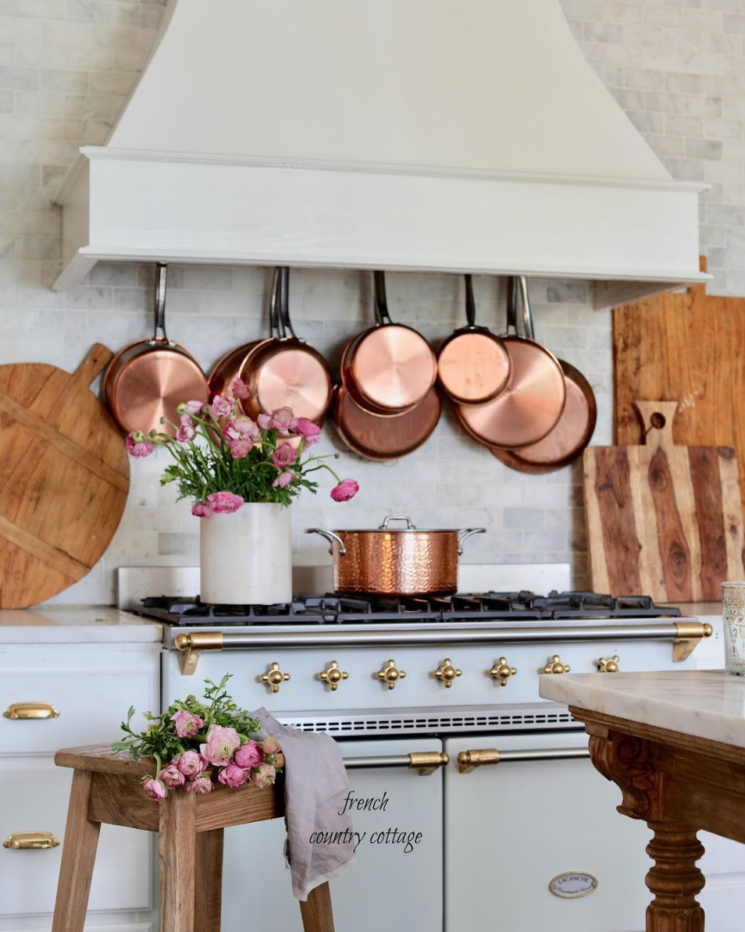 Courtney Allison is a freelance photographer and stylist for magazines and brands who recently finished her first book. Regarding her design aesthetic, she says, "I think if you walk into a room and see a room filled with treasures, memories, and things you love and they make you happy-  it's perfect." Her Instagram account has 156,000 followers (including all of us at Art Culinaire!) and she frequently features her Vert Silice Cluny Classique in her photography. Her amazing floral arrangements and penchant for a style that is a bit shabby / French country / cottage all beautifully mixed together make her online content absolutely stunning.
Courtney says, "I love that delightful mix of rustic and elegant in a room. The gilded French chair with a chipping table next to it. A burlap covered seat with an aubusson pillow. A chandelier in every room – even if it's a closet or a hallway. Everyday elegance- setting a table with vintage china and fine stemware and an abundance of beautiful blooms is a favorite thing… And I have been known to drag an old weathered farm table out to the middle of the woods and light it with a chandelier hanging from branches of a tree. I love creating that ambiance and inviting the conversations and laughs to linger a bit longer."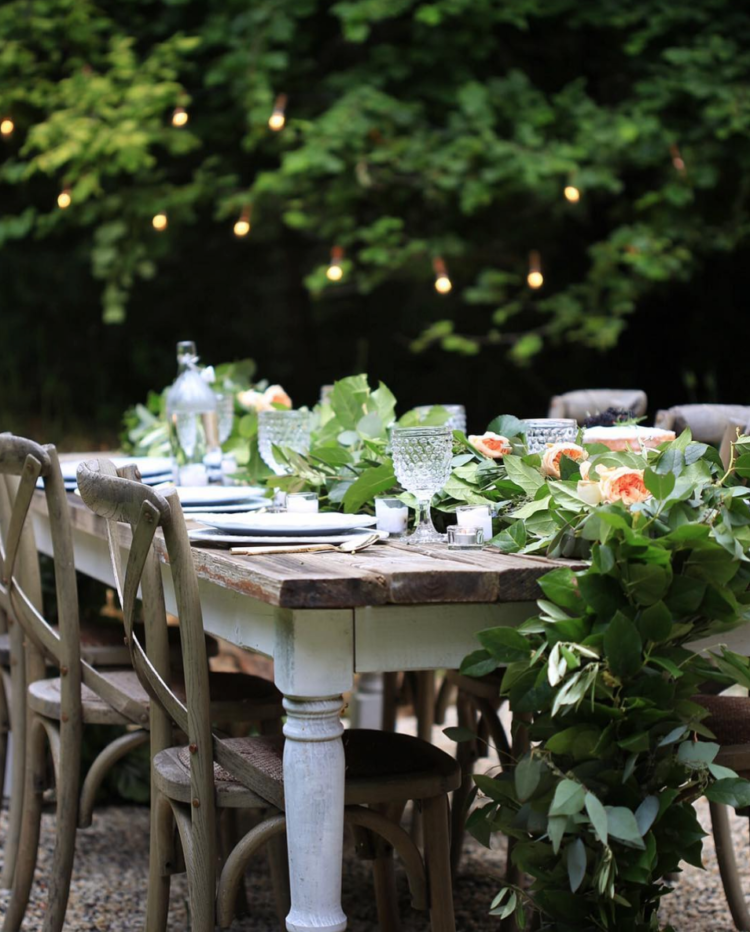 We asked Courtney about her gorgeous Cluny, and this is what she had to say.
How did you choose your Lacanche range?
 Of course it is absolutely beautiful, but it was important for me to have a range that did a wonderful job while fitting in with the aesthetic of my kitchen.The simple elegant design of the Lacanche reminds me of a beautiful French lady who is the center of attention but does not shout to be noticed. 
She also says in her blog, "I love that it is French of course- and hello- it is gorgeous!! But my husband loved that it was all manual. Meaning-there are not electrical motherboards that decide to go out. Our previous range was a mid price highly recommended brand that had the motherboard go out 3x in just a couple of years. Which meant we were baking in a countertop convection oven for awhile. I think in some things- less computer technology and more simple construction is better."
Where there any features that really attracted you? 
The beautiful aesthetic of the range- with the enamel and brass knobs is absolutely delightful. As well, I love being able to have two ovens side by side to be able to bake several things at one time.
After using it and cooking, baking with it – would you buy one again?
Absolutely- as I mentioned, my dream range I.need.a.bigger.kitchen is the Lacanche Sully.
I absolutely love using this range everyday and I love simply staring at this gorgeous girl in the kitchen everyday. She is timeless and classy and won't ever go out of style and when investing in a second home- or maybe even out in the cottage – I will definitely be looking at bringing another Lacanche home.
I cook on it every day!
Do you have any tips or tricks you would share with new potential owners?
The hardest part of ordering- choosing the color!! Go with your gut instinct with the color- I. knew that the first time I saw the sample chip I instantly loved it – but wasn't sure if it was right. But something that helped me was mixing up a sample of paint color matched and painting it on the wall in the kitchen to see it in that light- and also was knowing that I could order different panels in the future to change the look if I wanted to. Made the color commitment much easier! 
It is the shining star in the kitchen. Every time I share a photo or someone comes into the house- they fall in love and ask where they can get their own Lacanche.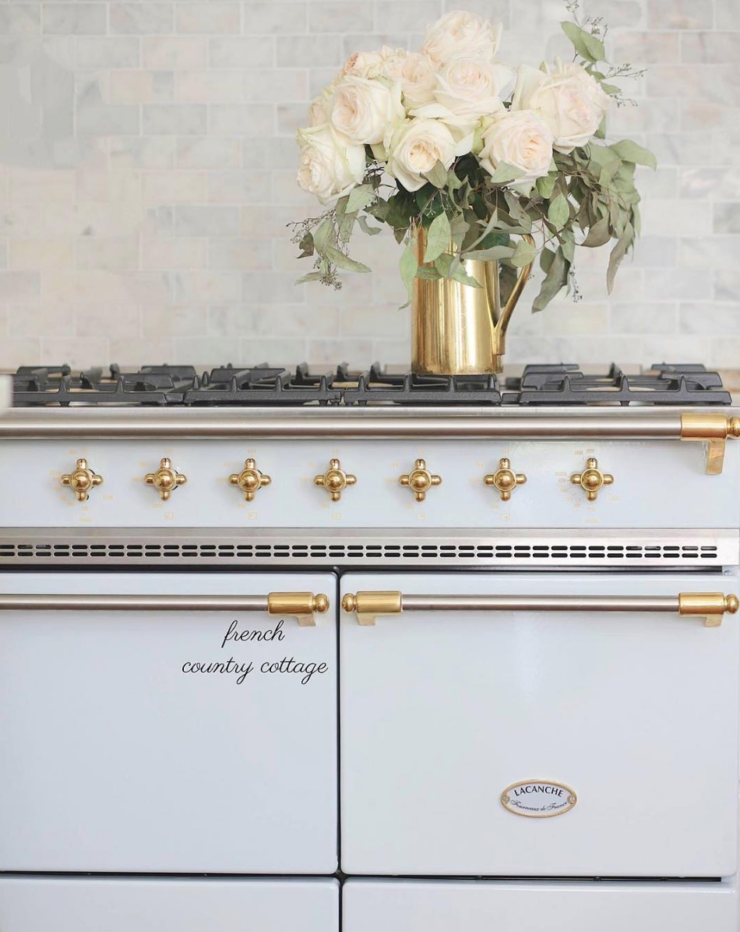 What do you think of the Lacanche range top?
We cook often on the range top and have found the various settings of the burners to be perfect for the different pans we use.
What has been your experience working with Art Culinaire/Lacanche US?
It has been a joy to work with Lacanche from the get-go. From questions about the range, to help in choosing the color, to the details about the features – and then shipping and delivery – they have been helpful with everything. When I met Elisa in NYC in the showroom- we were instant friends and I adore my Lacanche family!  
We sincerely thank Courtney for participating in our Voila Blog and for spreading the Lacanche love with her followers!