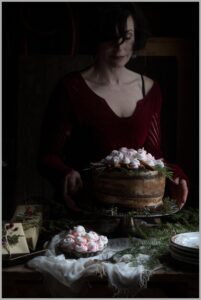 Photographer and blogger Sarah Kenney renovated a farmhouse in New Hampshire that was built in 1828 and owned by Governor Nehemiah Ordway from 1875 to 1907. The home is on the National Registry of Historic Places and Sarah and her husband have undertaken a loving restoration of the old homestead.
At the center of this renovation was the complete remodeling of her kitchen. She chose her Lacanche Cluny in Frangipane, and it fits in perfectly with all the warm and welcoming touches she has curated in her spacious kitchen.
When speaking about the importance of cooking in her home, she says, "our family is always talking about food, eating new foods, and camped out in the kitchen learning how to prepare many of these foods. Whether it be gumbo from Louisiana, soba noodles in Japan, biscuits in the Midwest, creamy fudge in the North, or clam chowder in the Northeast, we love it all~ and want to try recreating it all!"
What inspired your choice of a Lacanche range?
I have been in love with the french blog "Manger" for years now. Everything about Mimi's blog is gorgeous so when she was redoing her French country kitchen at the same time we were redoing our American farmhouse, I saw her black Lacanche and fell in love with it. I knew that this was the type of range that would work with our style here in New Hampshire.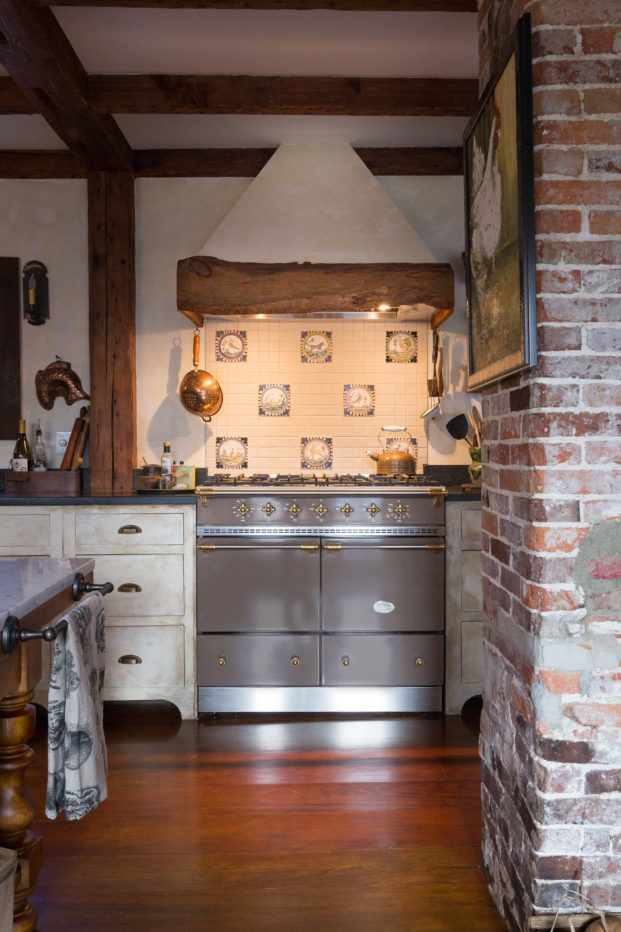 What features helped you decide?
The color options are wonderful and we had such a hard time narrowing down the color. I loved so many of the Lacanche color choices. The brass T knobs gave the range so much character. We also loved that the gas burners could be controlled from the most robust boil down to the gentlest simmer. We also like to cook meats and side dishes at the same time so we elected to have 2 ovens…one for the meats/roasts and the other to cook/warm side dishes. Also with 2 ovens, we can cook lots of cookies all at the same time.
How often do you cook on the range?
Every single day. Our kitchen is very farmhouse oriented so we have no microwave and other small appliances  readily available. I can boil water for my morning egg super fast; we brew our rich robust coffee in an Italian coffee pot on the stovetop; we make omelettes all the time for easy dinners; we always have vegetables from the garden roasting and caramelizing in the oven. In wintertime, there is always a large pot of soup gently simmering away on the stovetop.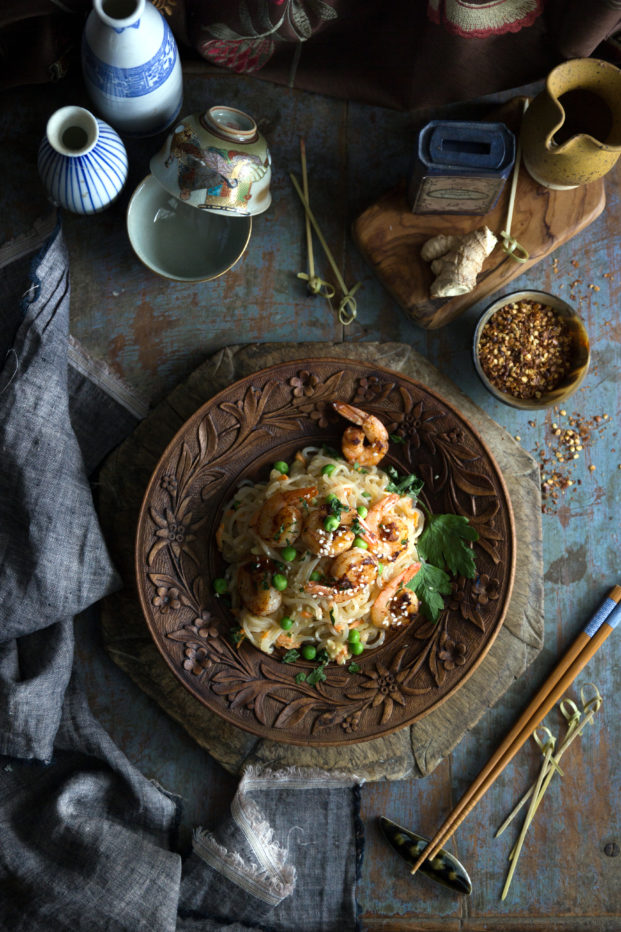 Sarah's Recipe for Shiratake Noodles with Grilled Shrimp
Do you have any tips or tricks you would share with new owners?
We keep a little timer right next to the oven to monitor anything we have cooking on the burners or inside the ovens. Play around with the burners by making omelettes or sautéing vegetables to see the fabulous range of cooking temperatures than can be set. For all meats/chicken/pork…we use a thermometer we insert into the meat with an alarm that sits right on the counter top. Meats are always cooked perfectly this way…no guessing or opening the oven constantly! Oh, also, all of the brass knobs slide off  for easy clean up.
When people see your kitchen, what do they think of the range?
Most people comment that it is more classic looking than the larger more masculine American ranges that are popular today. Of course, there are comments that it is very "french" looking. Sometimes, we are asked if it is an antique or if it is new. The color sometimes draws comments because it is not the expected silver of most ovens. The brass T shaped knobs often get an "awwww" reaction because they are chubby and quaint.
What was your experience in having your range shipped from France?
We were nervous about shipping something from Europe to our rural location in New Hampshire. That part of the purchasing process was seamless from ordering to installation. Lacanche has a web of service people that provide any technical assistance if required. For example, we wanted our burners adjusted so that we could could cook down to the barest of simmer setting. We contacted Lacanche and someone was out to our house in the countryside of New Hampshire within a few days to adjust the gas settings. Also, the many videos provided on the website gave us an abundance of useful information about anything that might need to be adjusted or understood better.
What challenges did you encounter with your renovation?
Challenges? Always there are challenges with a renovation! However, we didn't have any challenges with the Lacanche other than color selection and size. I dreamed of the bigger version of the range but it was a bit too much for our farmhouse kitchen. Using Pinterest to create boards of what I liked in a kitchen helped to really pull all of the design elements together in one coherent place. A good contractor can be all important in keeping a renovation running smoothly. Sharing pinterest boards with our contractor and all of the workers really pulled and included them into the process and helped everyone stay on the same page with regard to style and vision.
How has your experience been with Art Culinaire?
Dealing with Lacanche staff was a pleasure. On the East Coast, they have a team out of New York City. They know you are making a considerably important decision and that budget, installation, selection are going to bring lots of questions and some nervousness. All of our questions were answered quickly. We even drove about an hour away to visit with another family who showed us their Lacanche oven. Lacanche made all of these arrangements for us with the other family and we ended up having a wonderful visit meeting another food centric family that loves to be in the kitchen and really use their oven as a work horse. Seeing a Lacanche in another family's home and visiting with them about it helped us feel very comfortable making this purchase.
To read more about the extensive renovation Sarah undertook in New Hampshire, and to view her delicious recipes, please visit her blog, "Thyme." Or, follow Sarah on Instagram. If you would like to be included in a future Voila post, please email carrie@frenchranges.com
Photos by Sarah Kenny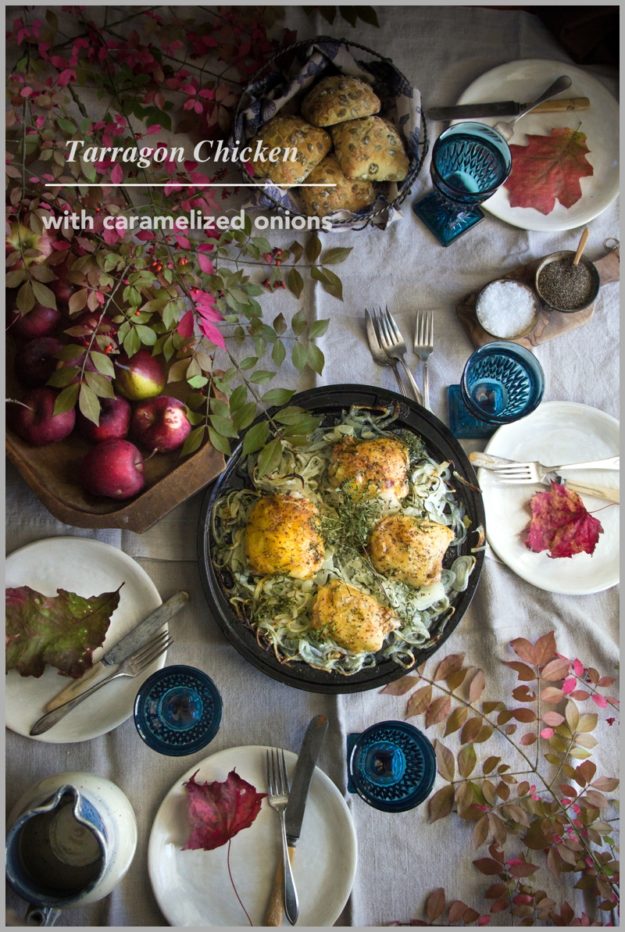 Sarah's Recipe for Tarragon Chicken with Caramelized Onions