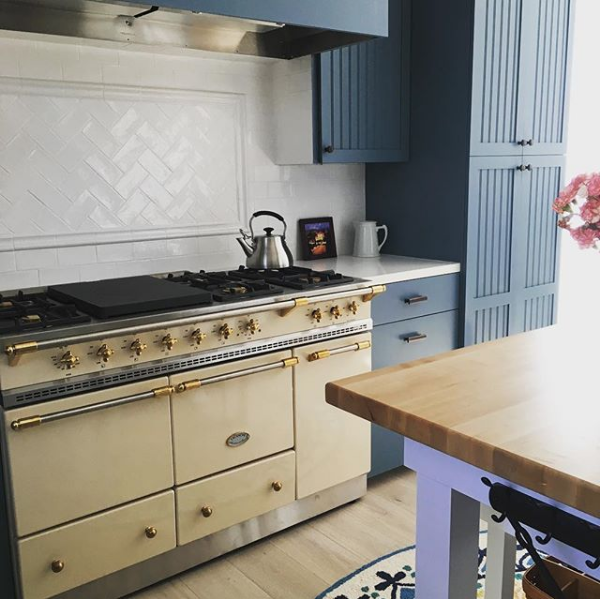 Normally I would write an introduction to this blog post about yet another wonderful Lacanche owner who we are thrilled to have in our family, but Ellen Hall Saunders is a fantastic writer, and I just could not introduce her any better than she has done herself. For more of Ellen's writing, please visit her blog here: http://www.ellenhallsaunders.com/
Originally from California, my family moved away when I was young to travel around Europe in a Volkswagon van and eventually settled in the south of Portugal. Life there in the 70's moved at a slower pace, and there is no fast food, so I learned to cook from my mom, who is a great cook! After attending high school and college in the States I moved to Paris, and my love of food and cooking took off! My husband and I loved to walk through the market street near our apartment on our way home from work, picking up fresh food to cook for dinner. We explored the amazing restaurants there with lots of hungry expat friends. Eventually I left my job at an international organization and went to cooking school, doing a stint learning how to make pastry in the kitchen of my French friend's aunt, and apprenticing with a chef at a "cooking club" that served three course lunches to local workmen in the neighborhood. It was heaven.
Once back in the States, I chose to stay home to bring up our kids, and cooking as a professional didn't fit into a family-friendly schedule. Instead I taught some classes, did a little catering, baked for a café for a bit… but mainly I cooked for my family and friends.
Now my children are in their twenties, and I am a writer and a natural health practitioner. Over the years we have lived in the SF Bay Area, New Jersey, Portland,Oregon and Boston. Two years ago we moved to the beach in Los Angeles, where I am lucky enough to get to spend time in the kitchen again with my 91 year old mom.
How did you choose your Lacanche range?
I have moved around a lot and was always happy to cook on whatever range I had. When we moved into a place that needed a kitchen remodel I suddenly had the opportunity to really think about what I would want in a dream kitchen. Since I went to cooking school in Paris when I was younger, the chance to have a real cook's range was so exciting. I was looking at brands like Wolfe and Thermador but when my sister took me to see the tangerine Lacanche in her friend's new kitchen, I fell in love. I looked online to learn more and found out that the sales office was about a mile from our new house… serendipity!
Were there any features that really attracted you?
Yes, I was looking for a range with a lot of options for different cooking needs: different size burners, griddle, warming oven, the option of gas and electric ovens, the French top… and I especially loved that it is all mechanical. No computer chips to mysteriously stop working! And naturally, I really love the old world enamel and brass look of the range. It is truly beautiful.

How often do you cook on the range?
I cook on it everyday. It is at the center of our daily lives. From the first kettle of boiling water for tea and coffee in the morning to weekly bread baking, dinner most nights, and feeding an endless stream of guests, it is the hardest working member of our family! We even named it – we call her Clothilde!
Do you have any tips or tricks you would share with new owners?
The burners are hot! I burned quite a few things in the beginning but now I love the powerful heat. The griddle was the biggest surprise: I hesitated about getting it at first but Victoria (our wonderful salesperson) assured me I would use it for everything and I do. Good for so much more than pancakes, I use it like a big cast iron pan for searing meats, frying eggs and making sourdough crumpets.
How do guests react to seeing Clothilde for the first time?
When we remodeled everyone heard about the amazing Lacanche range that was coming from France. The kitchen was really designed around it, so when people walk in the door they all ask to see it. They oooh and aaah and want to know all the features. They seem in awe of it. It is so much fun to have such a beautiful centerpiece in our kitchen. We moved here to Southern California from Boston two years ago and it turns out when you live in such a warm place lots of friends come to visit, so Clothilde has a steady stream of admirers!
Anything you would like to share about the purchasing of your range?
It was important to get educated by Victoria about all the different features when I was choosing which model and layout I wanted. I had to really think about how and what I cook. I was worried that the ovens would be too small, but they are actually wonderful. There is plenty of room without having to heat up a lot of empty space. The gas oven is great for roasting with moist heat, and the electric oven is drier and good for baking and things that need to be crispier. It is also remarkably easy to clean. Honestly my advice to anyone considering purchasing a Lacanche range is to make the leap! It is an absolute joy to cook on, look at and own.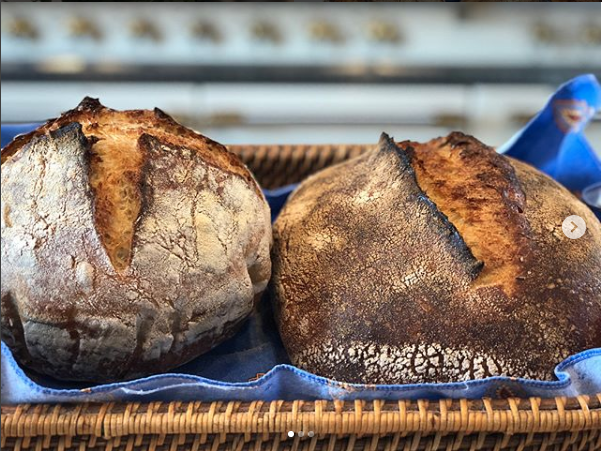 I hear you're rather good at baking bread…
I began baking bread a few months after our range arrived. I had always wanted to learn to bake bread and what better time than when I had just created a dream kitchen with a Lacanche Cluny 1400 with two ovens! I have trouble digesting anything made with commercial yeast so I bought a sourdough starter from King Arthur flour and learned how to feed it and keep it alive! I use organic flour from Montana Flour and Grains to make naturally leavened long fermented breads that are relatively easy to digest – and delicious too! Each batch comes out slightly differently and the two ovens bake differently, so it is always an adventure! Even the "failures" along the way are eagerly consumed by my family and friends so I have stopped worrying about creating the "perfect loaf." It seems to me that cooking in general, and bread baking in particular, is such a fundamentally loving nurturing pastime. Our family has been through a lot in recent years and coming together in our kitchen to eat food prepared on our stove has been a tremendous source of comfort. The slow and magical process of baking is in itself therapeutic. A slice of freshly baked bread slathered in butter is a gift for both baker and eater. And for my gluten free friends, I plan to master gluten free sourdough soon!
I hear you make sourdough crumpets with your leftover starter.
I do! The recipe comes from King Arthur Flour and it's a great way to use your started when you feed your sourdough. I cook them on the griddle plate, which works perfectly for this.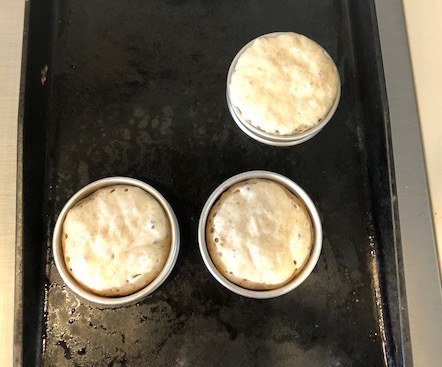 What has been your experience with the people at Art Culinaire?
Every interaction I have had with the company has been wonderful. Victoria especially has been incredible. She really helped me figure out what would work best for me and was great to work with. She came over after it arrived and taught me some tricks on how to use it. We continue to stay in touch and get together! I can't remember all the names of other people I have been in contact with but each one has been just great. I had to have the thermostat on one of the ovens fixed and the service was totally hassle free. I definitely feel like a valued and well cared for part of the Lacanche family.
Follow Ellen on Instagram | Ellen's Blog
Photos by Ellen Hall Saunders