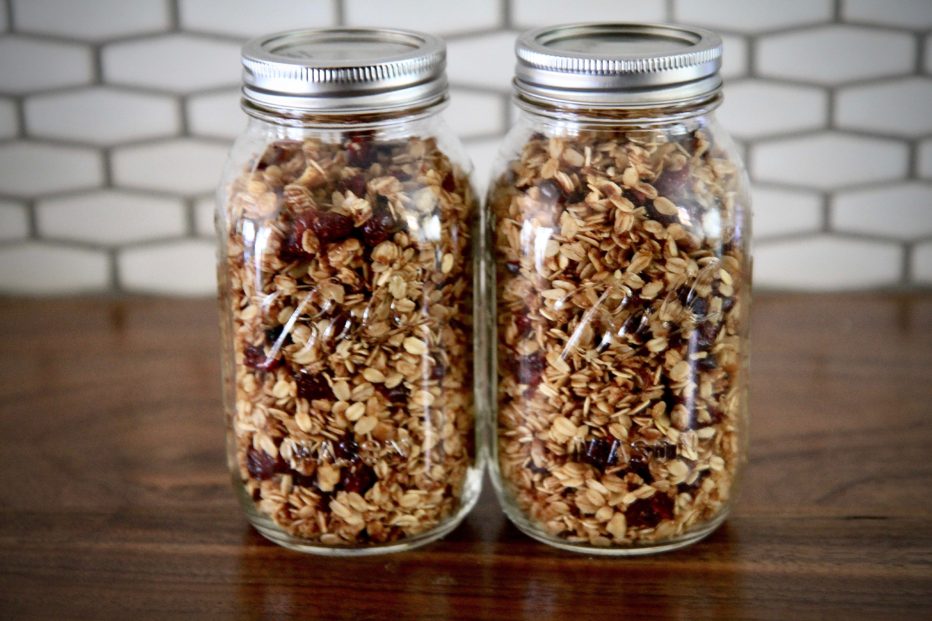 One of the truly wonderful things about choosing a Lacanche range that suits your individual cooking style and entertaining needs is all of the versatile options available. Since my husband is a winemaker, we like to host small dinners in our home and open up lots of great wines from different regions. We recently remodeled our kitchen and the warming cupboard seemed like an obvious choice for our new Lacanche range. I use the warming cupboard for all sorts of things – more than I expected even – including proofing bread and pizza dough, making low temperature dishes or warming things slowly, and of course, keeping food and plates warm for service.
My favorite use for the warming cupboard is making homemade granola. Having the ability to set the oven at 200 degrees Fahrenheit and leave the granola for an hour and a half makes this the perfect granola making oven! Making homemade granola is super simple and you can adjust the ingredients to include anything you like, really. My personal go-to recipe is below. Happy Cooking!
Walnut and Dried Cherry Granola
Preheat oven to 200 degrees Fahrenheit, line two baking sheets with parchment paper.
3 cups rolled oats (I like the Organic Rolled Oats from Bob's Red Mill)
1/2 cup vegetable oil ( I use avocado oil)
1/4 cup brown sugar
1/4 cup local honey
1 tsp cinnamon
1/4 tsp all spice
1 cup chopped walnuts (or pecans, almonds, hazelnuts, etc.)
1 cup dried cherries (or raisins, dried mango, dried coconut.. endless options!)
In a large bowl, combine all of your dry ingredients, except for dried fruit. In a small bowl, whisk together the honey and oil. Pour the liquid mixture into the dry ingredients and stir to combine thoroughly. I leave the dried cherries (or other fruit) out until the end because they are already dry enough and don't really need to spend time in the oven. Spread the granola mixture out on two parchment covered cookie sheets evenly, without clumps. Place your granola covered cookie sheets in preheated warming cupboard for approximately 90 minutes. For crunchier granola, raise the temperature to 250 and check after 90 minutes.
Allow granola to cool before packing to store in airtight containers. Keeps for two weeks or more at room temperature.