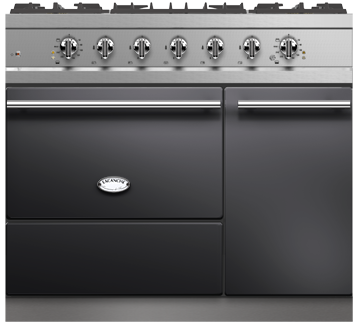 Vougeot moderne
STARTING AT $13,250
The Volnay and Vougeot Ranges offer a larger oven capacity and the luxury of a vertical warming cupboard.  While perfect for entertaining and keeping food warm, the warming cupboard also functions as a low temperature oven, ideal for proofing yeast, dehydrating vegetables, or echo'ing a soft cooking heat, similar to that of a crock-pot.  Begin your grains on the cooktop and let them fluff and finish in the warming cupboard while a 20-25 pound turkey (depending on turkey height) roasts in the oven.
Choose from a Classique or Traditional cooktop.
Click the button below to configure a Vougeot moderne that is perfect for your kitchen.