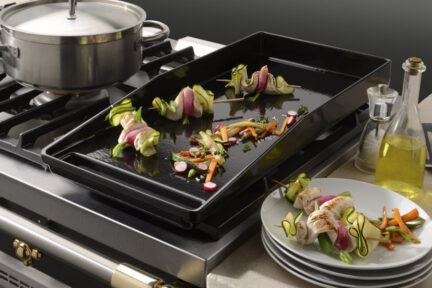 (Enameled) Griddle Plate
An optional accessory, the portable enamel-coated cast iron griddle plate rests over any two-burner groups. Ideal for pancakes, French toast, and meats and veggies too! Perfectly seared steaks and crispy smash burgers are a must. Its unique design locks on to your Lacanche grate and is easily removed for storage or cleaning purposes. A three-sided splatter guard and gentle slope allows for adequate runoff into the grease trap. Griddle plate dimensions are 20 inches by 10¼ inches and weighs just under 20lbs. The griddle plate works very well over a set of two 11K burners (or over two 15K burners for high temperature cooking). You can even place it over two burners that are not the same size, such as the 5k and 11k for duel zone cooking which is great for bacon and eggs. We do not recommend preheating an empty piece of enameled cast iron on the cooktop as there is a chance it could damage the enamel coating. Make sure you use a high smoke point oil or high fat content butter for cooking and start with low heat while the griddle is warming up.
Please Note: The griddle plate will retain heat very well. Thus, you may find yourself turning the griddle off at the last stages of cooking.
Care for Griddle: Seasoning is not required. It is best to use wooden and silicone utensils. For cleaning, allow griddle to cool, clean with brush and hot soapy water, and then dry. If needed, simmer a little water for 3-5 minutes to remove stuck-on food, then scrape with a pan scraper when water/pan has cooled. There are also some cast iron cleaning products such as Culina cast iron soap, scrub, and oil that can be helpful as well.