Bon Vivant Cuisine
Hosted from the Art Culinaire headquarters studio kitchen, Bon Vivant Cuisine classes feature learning on a custom Lacanche range and tutoring by professional chef instructors. Each of these fun, interactive events include an internationally inspired cooking class presented by a notable area chef. Your chef du jour will guide you through the preparation of a delicious, seasonal dish, a decadent dessert, or, potentially, a several-course meal. You will learn tips and tricks as you cook with some of the best chefs in the area. Grab a friend and join us for a culinary adventure that celebrates the art and beauty of Bon Vivant Cuisine.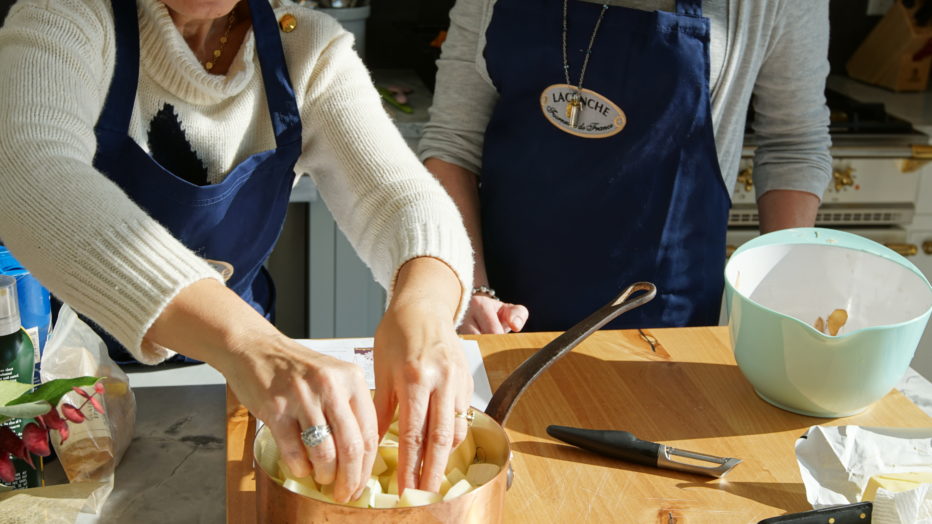 A Sweet & Savory Valentine's Wine Pairing Dinner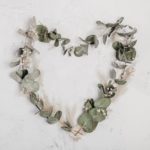 Chef: Cody Castiglia of Della Terra Catering
When: February 8th from 3 to 6 pm
Location: 1701 1st St. Snohomish, WA
Cost: $99 per person and includes a plated, multi-course dinner, hors d'oeuvres, chef's cooking demo and a wine pairing provided by Snohomish's own Kasia Winery (21 and over only)
Registration: Space is limited, Register Here
Menu: We begin with Beet & Pomegranate Salad and Smoked Salmon Ravioli followed by Herb Roasted Beef Tenderloin. For dessert, we will delight in a Chocolate Molten Lava Cake served with homemade ice cream and Summer's Preserves.
*Menu subject to change based on local, seasonal availability and chef's whimsy 🙂
About the Chef: Chef Cody Castiglia is the owner and founder of Della Terra Catering in Snohomish, WA. A third-generation cook and entrepreneur, Chef Cody is passionate about providing unwavering service to his customers. Above all, Chef Cody always prepares an unforgettable experience and a delight for the palate. As such, Chef Cody is a passionate advocate for sourcing fresh, seasonal ingredients from local farms. Furthermore, he also mentors the next generation of chefs through his cooking classes for young people.
About Kasia Winery: Kasia Winery is the fulfillment of Kasia's dream to craft wines that paint the portrait of a vineyard. As an artist, each of her paintings is unique in that they capture one scene at a defining moment. Similarly, with winemaking, she seeks to capture the memorable yield of each harvest season in a bottle. Created with grapes grown in the Red Mountain AVA, her wines embody the pioneering spirit of the terroir where they grow. As a result, each of her wines – like her artwork – is meticulously crafted and deeply personal.
A Taste of France – in Snohomish!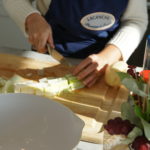 Chef: Muriel Foucher of Paris Eastside
When: Thursday, January 23rd from 6:30 to 10:30 pm
Location: 1701 1st St. Snohomish, WA
Cost: $90 per person and includes recipe packets, the cooking class, the plated dinner created in class, and a wine pairing provided by Damsel Cellars located in Woodinville. (21 and over only)
Registration: Space is limited, Register Here
Menu: Join us for a fun, French dinner class featuring a three-course dinner of Jerusalem artichoke soup, Boeuf Bourguignon, and Tartes Tatin.
About the Chef: Muriel-Marguerite Foucher, author of Easy French Microwave Recipes: Impress Your Friends with 30 Easy French Recipes, spent most of her life living in Paris where she owned and operated a successful cooking school for ten years. As a young girl, Muriel-Marguerite was inspired by her grandmother to find joy in fine food and in cooking. She spent hours in her grandmother's kitchen, preparing meals, and developing her passion for food. Consequently, that passion later grew into a successful career. After years teaching French cooking to English speaking tourists in Paris, Muriel-Marguerite moved to Bellevue, Washington. She now lives there with her family and owns Paris Eastside, a cooking school famous for its French macarons classes.
About Damsel Cellars: Damsel is a boutique Washington winery, specializing in small-batch red wines like Syrah and Cabernet, and Bordeaux and Rhone-style blends. Damsel Cellars is the dream of winemaker/owner Mari Womack, who is on the 6th vintage of her signature wines. The wines have been featured in many publications and won many state and regional awards. Furthermore, Damsel wines have rated in the '90s in national scoring from Wine Enthusiast, James Suckling, and Jeb Dunnuck. Damsel has a tasting room in Woodinville's Artisan Hill community, open on Saturdays & Sundays. Similarly, you will also find Damsel Cellars at many local food and wine events.