The staff of Art Culinaire shares a long standing tradition. Every Tuesday, we come together as a family of co-workers and have lunch in our beautiful showroom here in Seattle. The group, Lunch Bunch, is a welcome blessing as we settle into the flow of the work week. As a company dedicated to creating beautiful memories in the kitchen, it is only fitting that we delight in our own ritual of culinary adventures.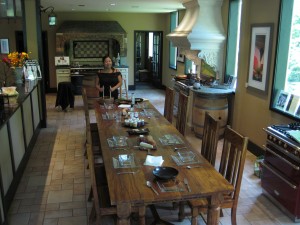 Last week, I volunteered to make lunch for the staff, eager to get some cooking time in with our in-house Cluny. My first cooking experience with the Lacanche was a delight to prepare a lasagna and minestrone soup for my co-workers. The range top provided me with more space than I could have dreamed of filling up; the large 18,000 BTU burner provided a fast boil for the pasta and a great simmer for the soup. The duel ovens were a treat to use, as I heated the lasagna in the gas oven and warmed some bread in the electric. After my wonderful first go at the Lacanche, I can most definitely say that our beautiful Cluny is absolutely perfect for multi-tasking and ideal for entertaining.
Big smiles all around the Lunch Bunch as we sat and shared a home cooked meal. Preparing food with love is always a key tactic for a successful cooking venture, especially when you're breaking bread with very special people.