Soups and Sauces
Print recipe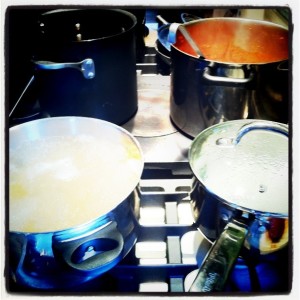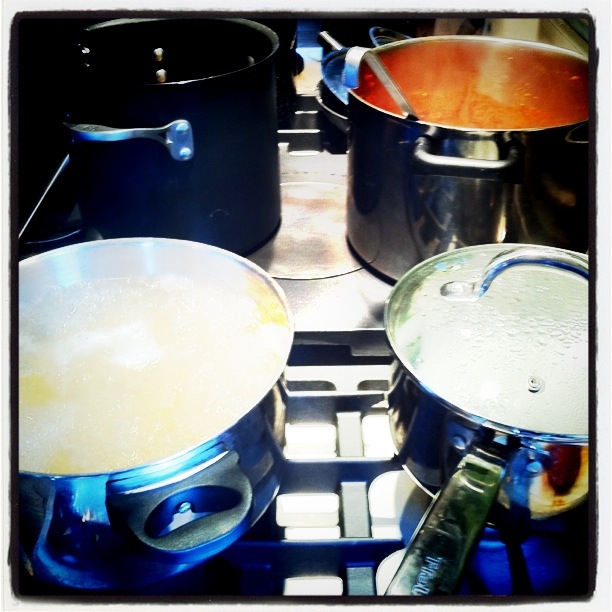 Ingredients
2 28oz cans of Whole Peeled Tomatoes
2 6oz cans of Tomato Paste
6 Cloves Garlic
1 cup Chopped Onion
1 teaspoon Italian Seasoning
1 teaspoon Garlic Salt
1 teaspoon Garlic Powder
1lb Ground Beef or Lamb
1lb Ground Italian Sausage
1 Egg
1 tablespoon Italian Seasoning
Garlic Salt
Garlic Powder
1/4 cup Chopped Onion
3-6 Cloves Minced Garlic
Directions
1
Step 1
Blend one 28 oz can of whole peeled tomatoes with one 6 oz can of tomato paste and 3 cloves of garlic at a time. Add to sauce pot, cover, and cook on medium low heat for two hours stirring every 10 – 20 minutes. After the first two hours reduce heat to low. Remove lid two hours before serving to let excess moisture evaporate.
2
Step 2
Combine all ingredients in a mixing bowl. Form golf-ball-sized meatballs out of the mixture and place in a frying pan on medium heat. Brown the meatballs, rotating them frequently. Place meatballs in the marinara and allow at least two hours in the sauce on low heat for the meatballs to finish cooking.
We put our in-house Cluny to work for our Soups and Sauces event this Saturday. All 4 burners and the entire surface of the french plate was in full use, as we showcased the art of the long simmer with a hearty marinara and classic chicken noodle. Our regular burners provided the space for boiling water for pasta and the makings for a thick cream of broccoli.