A good dinner party is a true art, a process that highlights the host's unique talents in cooking a great meal, creating a warm atmosphere, and celebrating the comforts of home.
The key to providing the ceremony of a meal amongst friends and family is an organized host. The host needs not to be the most versatile chef, they simply need a plan to make a scrumptious meal that they can prepare and share with ease.
Art Culinaire's dinner party workshop showed participants how to create an epic, simple meal in just an hour and a half.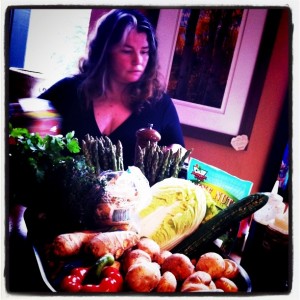 Yvonne Snyder, food goddess and occasional caterer, showed us how she works her magic. With simple, fresh ingredients, a passion for natural and organic food, and a process cultivated from her years of foodie passion, she exemplifies the fact that you don't need professional training to always incite a chorus of 'yum!' from your guests.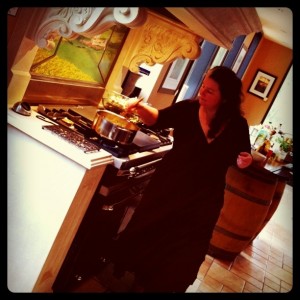 Bacon, the ultimate carnivore crowd pleaser and special ingredient that makes most everything more appealing, was the addition to her gorgonzola and pine nut stuffed mushroom appetizers.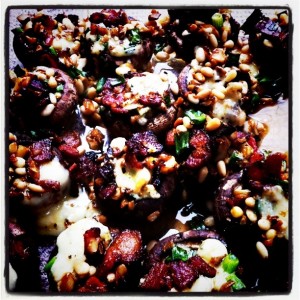 A simple salad and spicy curry based soup with lime followed. Yvonne is a proprietor of mixing ethnic foods for different courses, and I agree. You'll never know if two things will go great together unless you try!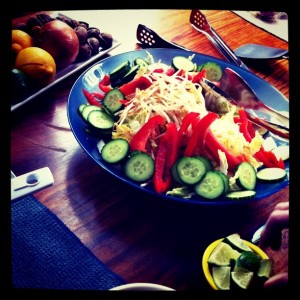 A full chicken was roasted for the main course. She picked this classic comfort to show folks how easy it is, since the timeless tradition of a roasted chicken is considered intimidating to most people. However, just a simple blend of herbs and citrus are what it takes to get this beauty out of your oven: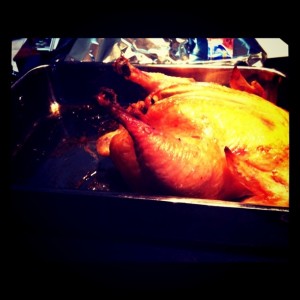 Dessert was bananas sauteed in brown sugar, cinnamon and citrus juice with store bought ice cream. The feast was paired with a sample of a white and many reds from Woodinville Wine Cellars.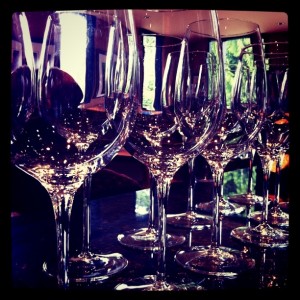 Our guests shared their stories and slip-ups from the kitchen, along with favorite chefs ranging from parents to Bobby Flay. Getting the chance to hear the food and travel backgrounds of a variety of people incited unique
feedback and inspiration for each of us to bring back to the kitchen.
And for your inspiration, here's that easy and delicious roast chicken recipe:
Roasted Chicken:
• 4 to 5 pound roasting chicken
• 1 tablespoon oil
• Salt and freshly ground black pepper
• 2 medium onions, peeled and sliced crosswise 1/2 inch thick
• 1 lemon or 2 limes or an orange
• 6 large cloves garlic, peeled or 2" of sliced ginger
• Sprigs fresh herbs
• 1 cup homemade chicken stock, or canned low-sodium chicken broth, skimmed of fat
• 1-1 1/2lbs baby potatoes
• 1 lb carrots
• 1 tablespoon unsalted butter
Directions:
1. Let chicken stand at room temperature for 30 minutes. Preheat the oven to 425 degrees. Remove the giblets and excess fat from the chicken cavity. Rinse chicken inside and out under cold running water. Dry chicken thoroughly with paper towels. Tuck the wing tips under the body. Sprinkle the cavity of the chicken liberally with salt and pepper, and set aside.
2. In the center of a heavy-duty roasting pan, place onion slices in two rows, touching. Place the palm of your hand on top of lemon and, pressing down, roll lemon back and forth several times. This softens the lemon and allows the juice to flow more freely. Pierce entire surface of lemon with a fork. Using the side of a large knife, gently press on garlic cloves to open slightly. Insert garlic cloves, herb sprigs, and lemon into cavity. Place chicken in pan, on onion slices. Cut about 18 inches of kitchen twine, bring chicken legs forward, cross them, and tie together.
3. Brush oil over entire surface of chicken, and sprinkle liberally with salt and pepper. Place in the oven, and roast until skin is deep golden brown and crisp and the juices run clear when pierced, about15 minutes per pound. When chicken seems done, insert a thermometer into the breast. The breast temperature should read 180 degrees.
4. About 30 minutes before chicken is done add potatoes and carrots to roasting pan.
5. Remove chicken from oven, and transfer veggies to pan or bowl to keep warm. Remove chicken from pan. Let chicken stand 10 to 15 minutes so the juices settle. Meanwhile, pour the pan drippings into a shallow bowl or fat separator, and leave onions in the pan. Leave any brown baked-on bits in the bottom of the roasting pan, and remove and discard any blackened bits. Using a large spoon or fat separator, skim off and discard as much fat as possible. Pour the remaining drippings and the juices that have collected under the resting chicken back into the roasting pan. Place on the stove over medium-high heat to cook, about 1 minute. Add chicken stock, raise heat to high, and, using a wooden spoon, stir up and combine the brown bits with the stock until the liquid is reduced by half, about 4 minutes. Strain the gravy into a small bowl, pressing on onions to extract any liquid. Discard onions, and stir in the remaining tablespoon of cold butter until melted and incorporated. Untie the legs. Carve, and serve gravy on the side.