Lacanche Shipping Crate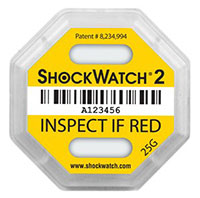 In an effort to reduce in-transit damage and safeguard our shipments, ART Culinaire/ Lacanche-USA is adopting the use of ShockWatch® products. The products are designed to activate (by turning RED) when the crate receives a specified level of impact or tilt angle. Instructions on the Bill of Lading are self-explanatory; however, we request you institute the following procedures in order to obtain the maximum benefit from the ShockWatch/TiltWatch® program.
Procedures for Receiving ShockWatch® Monitored Shipment:
Do not refuse shipment.
An activated RED ShockWatch® product does not mean damage has occurred, but only that the crate was handled more roughly than we like.
If the indicator is RED, please note that fact on the Bill of Lading document in the presence of the carrier. Even if no crate damage is visible, please open and inspect carefully within 7 Days for possible Concealed Damage. If damage exists, take well-focused photos of areas.
If exterior damage is visible, advise the carrier immediately verbally, note the damage on the Bill of Lading and document with photos. Open and Inspect within 24 hours. Take well-focused photos.
After inspection, leave your range in its original crate for protection if possible. If the contents have been damaged, and a claim is to be made, the carrier may require original crating material be kept for inspection as part of claim process. Please make allowances for storage.
The following information should be obtained when the ShockWatch® indicator is RED
Receiving consignee's signature
Receiving date and time
Delivering carrier's signature
Photographs of crate
Copies of the above documentation should be sent …
Attention: Crista Bisson/ Shipping Director
direct phone: 425-408-9423
Fax: 425-481-8080
With your cooperation, we feel that this program will be a success and assist you in receiving undamaged product (and ease the claims process if product does happen to arrive damaged).