This weekend we opened up bottles of Little Bear Creek and Sauvignon Blanc from Woodinville Wine Cellars to create the wine-infused cupcakes for the first of our spring event series. We had a full house on a rainy morning.
Half demo, half decorating free-for-all, this event showcased my love of melting butter and chocolate together; the decadent aroma of cupcake batter splashed with red wine; and the bonding experience of decorating with silver balls, sprinkles and colored sugar.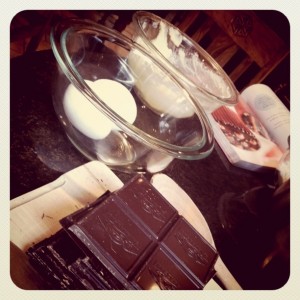 The white wine cupcakes called for mixing black currants in the batter. Instead, I poured the currant-free batter into the cupcake papers, then sprinkled the currants on top last, so once they baked, they were shiny on top.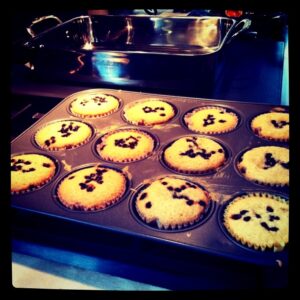 The red currant jelly glaze made these white wine beauties picture perfect! I highly recommend these as a brunch/breakfast treat.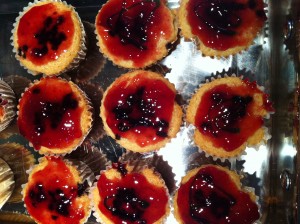 I whipped up the red wine and chocolate cupcakes as a demo at the beginning of the
event to accentuate the fact that you don't need anything fancy or a lot of time to make delicious treats. Chopping (instead of grating) chocolate was harder in front of an audience and without my good knife, but once it was in the batter, it was still the gooey same. Using our in house Cluny, half went in the electric oven and half went in the gas oven. The taste test proved that the gas oven provided a more moist texture, but both tasted equally delicious.
Workshop participants decorated the goods and displayed the beautiful edible art before we toasted to cupcakes and wine.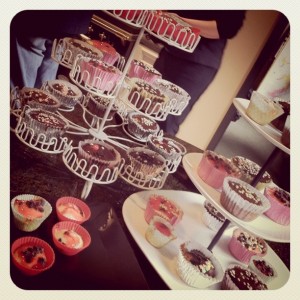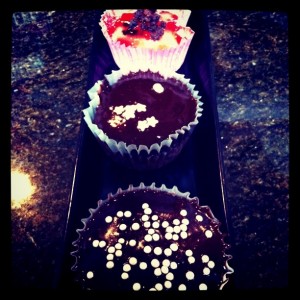 The recipes I used for the event were altered from my favorite cupcake goddess, Gail Wagman. Her book, Cupcakes Galore, is my SweetTreat-Spiration.
Burgundy Blues
Cupcakes
3/4 cup all-purpose flour
1 teaspoon baking powder
1/2 teaspoon salt
2 tablespoons instant cocoa powder
1 teaspoon cinnamon
1/2 cup/1 stick unsalted butter at room temperature
1/2 cup sugar
2 eggs
1/4 cup dry red wine
2 onces grated dark chocolate
Chocolate Glaze
4 ounces good quality dark chocolate (i used a mixture of dark and milk chocolate)
1/4 cup/ 1/2 stick insalted butter
1 tablespoon corn syrup
1. preheat oven to 350
2. mix dry ingredients together and set aside
3. cream butter and sugar until light and fluffy. add eggs, one at a time, mixing well after each addition. alternately beat in flour mixture and wine. fold in grated chocolate.
4. spoon batter into cupcake papers, bake for 20-25 minutes.
5. to make chocolate glaze: melt chocolate and butter. when just melted, remove from heat and stir in corn syrup. dip cupcakes in glaze or drizzle over cupcakes.
Kir Cupcakes
Cupcakes
1 2/3 cups all purpose flour
1 1/4 cups sugar
2 teaspoons baking powder
1/2 teaspoon salt, plus pinch for egg whites
1/2 cup veggie oil
1/2 cup white wine (i used woodinville wine cellars sauvignon blanc, my favorite white cooking wine)
4 eggs, separated
3/4 cup dried currants
Black Currant Glaze
8 heaping tablespoons black currant jelly (i used redcurrant jelly instead, bought from top foods)
2 tablespoons black currant liqueur
1. preheat oven to 350
2. mix flour, sugar, baking powder and salt in a bowl. gradually add liquid, mixing well. add yolks, beating well after each addition.
3. beat egg whites with a pinch of salt until stiff but not dry. gently fold into batter. carefully fold in dried currants.
4. fill cupcake papers and bake for 20 minutes. remove and cool.
5. to make glaze: in small pan, heat blackcurrant jelly and liqueur if using and cook for 2 minutes