Traditional Quiche
Print recipe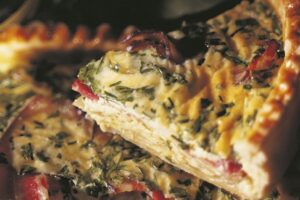 A savory, open-crust pastry filled with a creamy-egg mixture. Can be served hot or cold. This version is filled with bacon, chives, and parsley!
Ingredients
The crust
1 cup flour
1/2 cup butter
4 teaspoons water
1 pinch of salt
1 egg yolk
The filling
6 medium slices bacon
3 onions, thinly sliced
6-8 chives
1 bunch parsley, small
2 tablespoons butter
3 eggs
1 3/4 cup heavy cream (crème fraîche)
Note
UTENSILS YOU WILL NEED FOR THIS RECIPE:
11" pie pan
Medium frying pan
Stainless saucepan
Glass ramekin dish
Large glass salad bowl
Large ladle
Slotted spoon
Brush
Wooden spoon
Directions
Preparation
Step 1
Preparation: Make dough for the crust by putting flour in the salad bowl. Add a pinch of salt, the water, and the butter, then mix.
Step 2
Thoroughly mix the dough with the wooden spoon and continue kneading it by hand to soften it.
Step 3
Cook the onions in the 2 TBSP. butter until they are slightly caramelized and translucent; set aside.
Step 4
Boil the bacon in a saucepan and reserve once slightly firm.
Step 5
Spread out the crust in the oiled pie pan and cover the edges well. Preheat the oven to 400 degrees F.
Step 6
Wash the edges of the crust with the egg yolk. Prick the crust bottom with a fork several times, then bake the crust for 10 minutes.
Step 7
Take the crust out of the oven and place the onions, then the bacon, on the bottom of the pan.
Step 8
Chop the herbs and sprinkle them evenly over the bacon slices.
Step 9
Whisk together the egg and cream mixture, then pour it in gently.
Step 10
Bake in the oven for 25 minutes at 400 degrees F, then increase temperature to 425 degrees F for 20 minutes.