Sole and Vegetable Roulades
Print recipe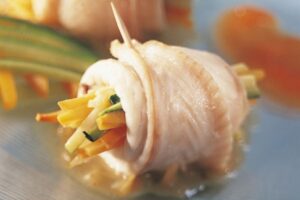 Ingredients
Ingredients
12 sole filets
small zucchini
6 medium carrots
6 stalks of celery
3 peeled shallots
2 tablespoons red wine vinegar
2 tablespoons cider vinegar
1 teaspoon port
2 teaspoons fisk stock, mixed into
1 glass white wine
1 tablespoon refined sugar
1/2 cup + 2 TBSP. butter
salt & pepper
Note
YOU WILL NEED THE FOLLOWING UTENSILS FOR THIS RECIPE:
Porcelain baking dish
Filet knife
Chef's knife
Cutting board
Copper saucepan
Wooden spoon
Small ladle
Wooden toothpicks
Steaming tray
Directions
Preparation
Step 1
Wash and dry zucchini; halve lengthwise and clean out seeds with a small spoon. Trim the celery and peel the carrots.
Step 2
Julienne the vegetables and place them in the steaming pot, keeping each kind separate. Carrots will need extra time to soften.
Step 3
Cook them just until they are al dente (tender but still firm).
Step 4
Roll up the sole filets to surround the steamed vegetables, secure the rolls with toothpicks. Reserve all remaining extra vegetable pieces.
Step 5
Finely chop the peeled shallots.
Step 6
Place them in the saucepan and add the port, cooking until it is reduced to almost dry.
Step 7
Add both types of vinegar and the sugar.
Step 8
Place the rolls in the oven now at 350 degrees F for 10 minutes.
Step 9
Incline the dish so that the juice from cooking can be ladled out and reserved.
Step 10
Withdraw the dish and cover with aluminum foil to retain heat.
Step 11
Add the juice from cooking to the shallot/vinegar sauce and reduce.
Step 12
Take the saucepan off of the simmer plate and add 3-4 TBSP. butter in pieces, stirring well. Season with salt & pepper.
Step 13
Quickly heat remaining vegetables in a teaspoon or two of butter.
Step 14
Present the rolls on a heated plate. Alternately place the extra vegetables and sauce around them.