Sea bream à la niçoise
Print recipe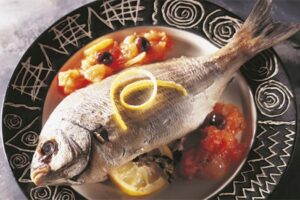 Ingredients
Ingredients
4 Whole portions of seam bream or similar fish
3/4 cups Fish stock
1 1/2 cup Dry white wine
2 lbs. Tomatoes
1 Large Onion
Handful of black olives
2 Shallots
2 cloves Garlic, peeled & crushed
4-8 Fresh thyme branches
2 Organic lemons
2-3 tablespoons Olive oil
1 teaspoon Refined sugar
Salt & pepper
Note
YOU WILL NEED THESE UTENSILS FOR THIS RECIPE:
Large broiling pan
Large frying pan
Small saucepan
Wooden spoon
Carving knife
2 Cutting boards
Small glass bowl
Teaspoon
Directions
Preparation
Step 1
After cleaning and scaling the fish, you will place them on the well-oiled broiling pan. Scald outsides of tomatoes and peel them; cut them in half and eliminate seeds.
Step 2
Reduce white wine in the saucepan. Bring to a boil initially, then reduce to low heat and simmer for approx. 5 minutes.
Step 3
Wash and dry lemons. Cut them into thin slices.
Step 4
Coarsley chop the tomato pulp with the carving knife.
Step 5
In the frying pan over medium/high heat, cook the onions and shallots in 2 tablespoons of oil until soft and clear.
Step 6
Add the tomato pulp, peeled and crushed garlic cloves, sugar, salt, and pepper. Continue to cook at low/medium heat an additional 15 minutes.
Step 7
Slip a lemon slice and a thyme branch or two into each fish. Season inside and out with salt and pepper.
Step 8
Preheat the over to just between 400 and 425 degrees.
Step 9
Pour the tomato mixture, fish stock and white wine into the broil pan. Add olives and begin baking.
Step 10
After cooking for 15 minutes, very delicately turn fish over and cook for another 15 (total time 30 minutes).