Scallops with a Hint of Dill
Print recipe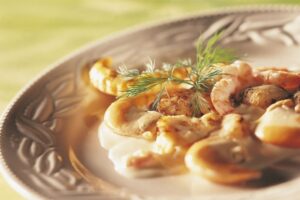 Ingredients
Ingredients
12 scallops
15-20 smalled peeled shrimp
2 tablespoons butter
1/2 glass white wine
3 teaspoons shellfish seasoning
1 small bunch of fresh dill
3-4 tablespoons heavy cream (crème fraîche)
Note
YOU WILL NEED THE FOLLOWING UTENSILS FOR THIS RECIPE:
Large frying pan
Filet knife
Glass ramekin bowl
Small decanter
Wooden spoon
Creamer jar
Cleaning cloth
Directions
Preparation
Step 1
It is best tot use fresh scallops. If possible, make sure they are opened and cleaned from your fish market.
Step 2
Delicately rise and dry the scallops.
Step 3
Cut the scallops in half by thickness.
Step 4
Set a burner on high heat.

Step 5
Dissolve the butter in the frying pan.
Step 6
Stirring briskly, fry the scallops 1-2 minutes on each face, add the shellfish seasoning during this time.
Step 7
Add the white wine and wait for it to begin boiling slightly.
Step 8
Decrease heat to low and add the shrimp.
Step 9
Once the wine has reduced by over half, add the cream and dil, salt & pepper. Garnish with 1 or 2 sprigs of dill for presentation.