Roasted Turkey with Garlic-herb butter
Print recipe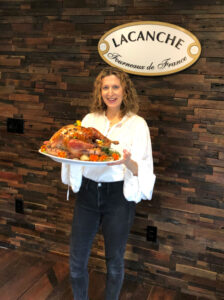 Ingredients
1 1 garlic head
Olive oil for drizzling
3 tablespoons each chopped fresh thyme, rosemary, sage, and flat leaf parsley
1 cup or 2 sticks – unsalted butter, room temperature plus more for basting
3 teaspoons coarse salt
freshly ground pepper
1 fresh turkey 12 to 14 lb.
Sautéed Cipollini Onions (in the following recipe)
Directions
Step 1
Preheat oven to 350, with rack in center. Place the garlic head on a square of aluminum foil, and drizzle with oil. Loosely wrap garlic, and roast until fragrant and very soft, about 1 hour. Remove from oven; let cool.
Step 2
In a small bowl, combine herbs and butter. Slice off tip of roasted garlic head with serrated knife; discard. Squeeze garlic head firmly over bowl to release softened cloves. Season with salt and pepper, and mix until smooth.
Step 3
Raise oven temperature to 400. Rinse turkey with cool water; pat dry. Tuck wing tips under body. Place turkey on a roasting rack in a heavy roasting pan.
Step 4
Using your hands, gently separate skin from turkey breast at both ends; smear one-fourth to one-third of herb butter between skin and meat. Smear exterior and cavity with remaining herb butter.
Step 5
Roast until skin begins to brown, 50 to 55 minutes (tent with foil if herbs begin to burn). Reduce oven temperature to 30; continue to roast turkey, basting with additional butter, until a leg rotates easily in the joint, 70 to 90 minutes more (depending on size of turkey).
Step 6
Insert an instant-read thermometer into thickest part of thigh (avoid the bone) to see if temperature is 180. If not, baste turkey, return to oven, and roast until temperature is 180.
Step 7
Let turkey rest, loosely covered with foil, at least 30 minutes before carving.
Step 8
Arrange turkey on a platter with onions and serve. (I decorated it with fresh herbs and edible flowers after it cooled a bit).