Roast Turkey with Brown Sugar and Mustard Glaze
Print recipe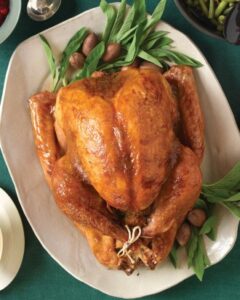 | | |
| --- | --- |
| Serves | 10 |
| Prep time | 15 minutes |
| Cook time | 4 hours, 15 minutes |
| Total time | 4 hours, 30 minutes |
A practically instant sweet and spicy mixture of mustard and brown sugar flavors the bird and gives the skin an impressive golden-brown color.
Ingredients
Ingredients
1 Whole turkey (about 12 lbs.) (thawed if frozen, rinsed and patted dry (neck & giblets reserved, liver discarded))
Coarse salt & ground pepper
2 tablespoons Butter, room temperature
1/2 cup Packed light-brown sugar
1/4 cup Spicy brown mustard
Dressing
4 cups Pecan Cornbread Dressing
1 1/2 cup Coarsley chopped pecans
4 tablespoons Butter, plus more for baking dish
1 Large onion, finely chopped
3 Celery stalks, finely chopped
Coarse salt & ground pepper
1/2 cup Dry white wine, such as Sauvignon Blanc
16 cups Cuber store-bought cornbread (about 2 3/4 lbs)
3 tablespoons Finely chopped fresh sage
3 Large eggs, beaten
2 cups Reduced-sodium chicken broth, heated
Note
To ensure a juicy Thanksgiving turkey, buy an inexpensive instant-read thermometer, and roast the bird to the temperature specified in the recipe.
Directions
Turkey
Step 1
Preheat oven to 350 degrees with rack in lowest position. Place turkey on roasting rack set in a large roasting pan. Season inside of turkey with salt and pepper. Loosely fill neck and large cavity with dressing; fold skin over, and secure with skewers or trussing needles, if necessary. Bend wing tips forward, and tuck under neck cavity. Using kitchen twine, tie legs together securely. Rub turkey all over with butter; season with salt and pepper.
Step 2
Add neck, giblets, and 3 cups water to roasting pan. Cover turkey loosely with aluminum foil. Roast 1 hour, and then baste with pan juices every 30 minutes, until an instant-read thermometer inserted in thickest part of a thigh (avoiding bone) registers 125 degrees, 1 to 2 hours more.
Step 3
Remove foil; increase heat to 400 degrees. In a small bowl, stir together sugar and mustard; brush turkey with glaze. Rotate pan, and continue to roast turkey, brushing with glaze 2 to 3 more times, until thermometer registers 165 degrees, 45 minutes to 1 hour more (tent with buttered foil if browning too quickly; add more water if pan becomes dry).
Step 4
Transfer turkey to a platter; reserve pan with drippings for gravy (opposite). Cover turkey loosely with foil, and let rest at least 30 minutes (or up to 1 hour). Before serving, remove dressing, and carve.
Dressing
Step 5
Preheat oven to 375 degrees. Spread pecans on a large rimmed baking sheet, and toast until fragrant, 3 to 5 minutes; set aside. In a large skillet, melt butter over medium. Add onion and celery; season with salt and pepper. Cook, stirring occasionally, until softened, 8 to 10 minutes. Add wine, and cook until evaporated, 3 to 5 minutes. Transfer to a large bowl; let cool slightly.
Step 6
To bowl, add cornbread, sage, eggs, and pecans. Season with 1 1/2 teaspoons salt and teaspoon pepper. Pour 1/2 cup hot broth over cornbread mixture. Toss gently (cornbread will break down into smaller pieces). If necessary, add up to 1/2 cup more broth so stuffing is moist but not soggy.
Step 7
If stuffing turkey, set aside 4 cups dressing. Spoon remaining dressing into a buttered 2-quart baking dish; pour up to 1 cup remaining broth over top to moisten. (To make ahead, refrigerate, up to 5 hours.) Bake, covered, for 30 minutes; uncover, and bake until browned, about 15 minutes more. Makes 12 cups.