Portuguese Kale and Potato Soup
Print recipe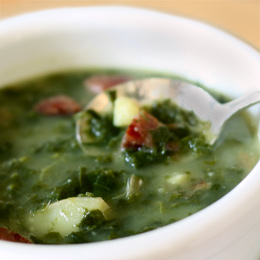 A delicious comfort food soup with spicy chorizo sausage.
Ingredients
1 cup chorizo sausage (substitute Lincuica sausage if need be)
3 russet potatoes
5 cups kale (chopped)
1 quart chicken stock
3 cups water
kosher salt
black pepper
3 tablespoons extra virgin olive oil
1/2 cup onions (sliced)
3 garlic cloves (minced)
Directions
Step 1
Cook chorizo sausage over medium heat to well browned, drain on paper towels and set aside.
Step 2
In a large soup pot over medium heat add oil, garlic and onions, saute for 5 minutes.
Step 3
Season with salt and pepper
Step 4
Add chicken broth, 2 potatoes and kale then cover and cook for 25 minutes until potatoes are soft.

Step 5
Mash potatoes up, then add 3 cups water, season with salt and pepper, add previously cooked chorizo and diced potatoes. Cook for 15 more minutes.