Layered Tomato Pie
Print recipe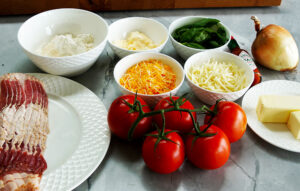 Ingredients
1 1/4 cup flour, sifted
1/2 teaspoon salt
1/2 heaped teaspoon sugar
10 tablespoons unsalted butter (for the pie crust)
3-4 tablespoons cold water
1 onion, chopped
2 tablespoons butter (for caramelizing the onions)
4-5 tomatoes, roughly chopped to 1/2'' pieces
handful basil, roughly chopped
1 cup shredded sharp cheddar
1 cup shredded Colby Jack (you can use any combination of cheese you like)
1/2 cup mayo
1 teaspoon hot sauce (like Tabasco)
salt and pepper to taste
12oz uncured bacon (could be smoked or non smoked. Any bacon will taste great in our opinion)
Note
You can easily make this pie with a store bought shell and opt out of bacon to make it a vegetarian dish.
Directions
Step 1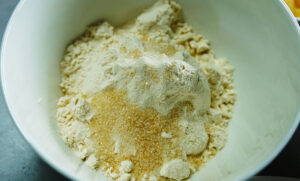 For the pie crust, mix the flour with the salt and sugar.

Step 2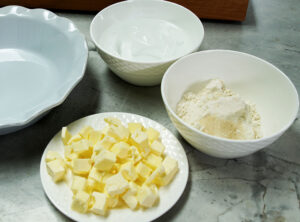 Add the butter and water in batches. You can use a mixer or use your hands. Work the dough until the ingredients are blended but don't over mix. Shape the dough into a disc, and cool in the fridge for approximately an hour. After an hour the dough is ready to roll. Spread flour on your working surface. Flatten the dough to fit a 9'' baking dish. Place the dough snuggly into the dish.
Step 3
Pre heat the gas oven to 350F degrees. It will take roughly 25-30 minutes to reach the desired temperature.

Pre heat the Griddle Plate over the two 11,000 BTU burners for even heat. This will take 10-15 minutes.

In the meantime, melt two tablespoons butter. Add the chopped onion. Caramelize the onions, stirring them frequently for 10-15 minutes on low heat, until nicely browned but not burned.
Step 4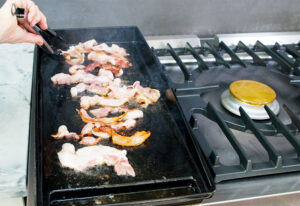 When the Griddle Plate is ready, place the bacon and cook until crispy (careful not to burn it).

Place the cooked bacon on a plate covered with a paper towel and allow it to drain from any excess grease.
Step 5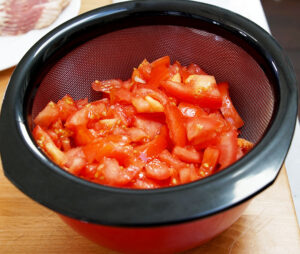 Place the tomatoes in a colander, over a bowl. Squeeze the moisture out of the tomatoes by pressing on them with a paper towel. Discard the juice.

Mix the two kinds of cheese in a bowl.
Mix the mayo with the hot sauce.

I used one cup of the cheese mixture by itself and one cup of the cheese blend, mixed with the mayo and hot sauce.
Step 6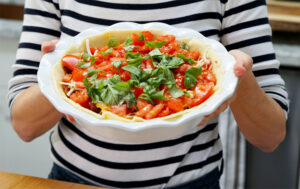 Layer the ingredients on the pie crust in stages. Use any order you like.

Here is what I did:
1. Caramelized onions
2. Bacon
3. Tomato & basil
4. Cheese mixture (with no mayo & hot sauce)
5. Bacon
6. Cheese mixture (with the mayo and hot sauce)
7. Tomato & basil

Place the pie in the preheated oven and bake for approximately 30-35 minutes, until browned and bubbly.
Step 7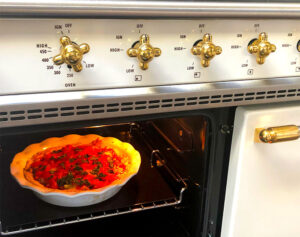 This pie is great with a side of green salad and a bottle of dry crisp white wine or a rose. Enjoy indoors or outdoors!