Honey Infused Challah – For A Sweet New Year!
Print recipe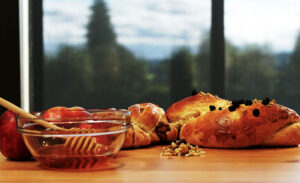 Ingredients
4.5-5 cups flour
2 cups warm water
2.5 tablespoons dry active yeast
3 tablespoons sugar
1/2 tablespoon salt
1/2 cup vegetable oil or 2/3 cup butter
1/2 cup honey
2 eggs
1 teaspoon orange extract or 1-2 tbs orange zest
1 teaspoon cinnamon
2 teaspoon honey and 1 egg yolk for the glazing
Directions
Step 1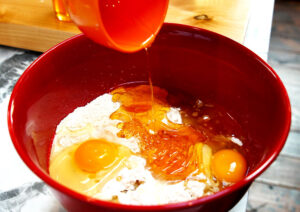 Add the flour, oil (or softened butter), honey, and eggs into a mixer, turned on slow.
Step 2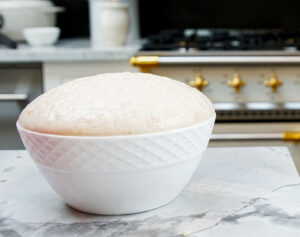 In a separate bowl, mix the yeast with the warm water. Let it activate in a warm place for 10-15 minutes. If you have warming cupboards the mix can be placed there on low. Keep an eye on it so it does not overflow.
Step 3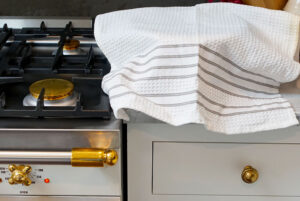 Add the yeast mixture to the mixing bowl. Keep mixing on low. Add the orange extract (or zest) and the cinnamon. Keep mixing on high until a soft and agile dough is formed. Cover the mixing bowl with a kitchen towel and let it raise in a warm place for about an hour until it doubles its size.
Step 4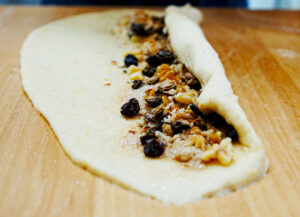 Set the oven to 350F.
Sprinkle some flour on your working space. Divide the dough into 4-6 parts, depending how many different fillings you want to have. Flatten each of the balls with the roller and spread (or smear) it with your favorite types of filling (filling suggestions below). Roll the filled dough into a long log. Keep going with the rest of the dough.
Step 5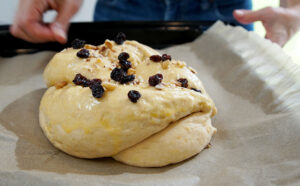 Braid the rolls or cut and arrange in a circle, depending on the shape you would like to create. Brush the bread with the egg and honey mix. You can sprinkle on top raisins, nuts, or any other chopped dried fruit.
Step 6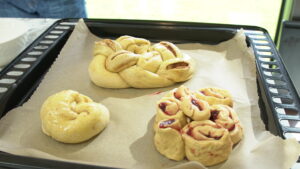 Let the filled and shaped rolls raise again for 15-20 minutes.
Step 7
Bake the rolls in the preheated oven for approximately 25 minutes.
Step 8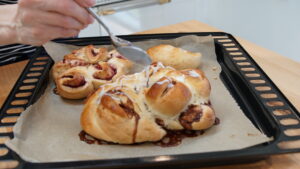 Filling options:
1. Nuts and dried fruit such as almonds, hazel nuts, walnuts, raisins, chopped dried apricots and dates. Add one tablespoon of cinnamon and sugar.
2. Cocoa and sugar in a 1:4 ratio otherwise it is too bitter.
3. Fruit preserve like raspberry.
4. Nutella

Note 1: Before you sprinkle or spread the filling (except for Nutella or fruit preserve), brush the flattened dough with a bit of oil so it sticks.
Note 2: You can add powdered sugar icing (mixed with a bit of water) on top of the bread after it comes out of the oven and cools a bit.
Step 9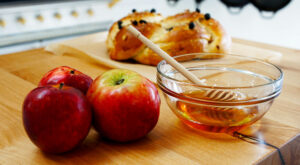 Serve with apples and honey.
Shana Tova! (Happy New Year in Hebrew)