Green Beans with Shallots and Cream
Print recipe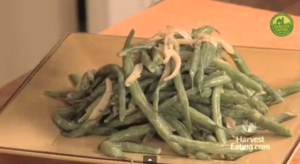 Green beans really come to life with sauteed shallots and a touch of cream. Chef Keith Snow demonstrates how-to make this simple green bean dish.
Ingredients
1lb fresh green beans
1 half sliced shallots
1 tablespoon organic heavy cream
1 tablespoon extra virgin olive oil
1/4 cup veggie broth or chicken broth
1 pinch salt
1 pinch black pepper
Directions
Step 1
In a pot of heavily salted boiling water, add beans and cook for 10 minutes. Remove from water and place in ice bath to stop cooking process.
Step 2
In a skillet over medium high heat add oil . Once hot, add shallots, cook for 1 minute, add broth and beans and cream and saute for 3 minutes.
Step 3
Cook for a few minutes tossing beans in sauce and allowing it to reduce. Adjust seasoning with salt and pepper if needed.