Fig Clafoutis
Print recipe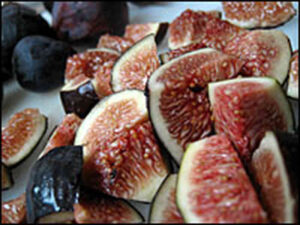 | | |
| --- | --- |
| Prep time | 55 minutes |
| Cook time | 25 minutes |
| Total time | 1 hours, 20 minutes |
Simple and delicious French inspired dessert that goes well with any fresh fruit, especially dark sweet cherries, or in this recipe, figs! A simple batter is all that's needed to perfect this dish. Goes well with a sweet white wine from Alsace region of France.
Ingredients
15 fresh black or dark brown figs (washed, stem removed and sliced in half)
1/2 cup granulated sugar
4 eggs
3 tablespoons melted unsalted butter
1 cup flour
1 pinch salt
butter for greasing pie dish
Directions
Step 1
Preheat oven to 325 degrees.
Step 2
Butter a round shallow pie dish with cold butter

Step 3
Arrange figs in dish, some cut side up, some cut side down, pie dish should be crowded with figs
Step 4
In a large bowl or food processor, mix remaining ingredients well being sure to add flour last, at little at a time. Your looking for a thick pourable batter, not too thick however.
Step 5
Pour over figs then bake until slightly golden brown. Serve room temperature with a nice glass of Alsatian wine.