Coq au vin
Print recipe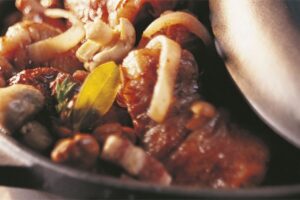 "Coq au Vin," literally translating to chicken in wine, is an absolute quintessential French dish from Burgundy. An absolute crowd pleaser and is typically served with potatoes.
Ingredients
Ingredients
1 Capon/rooster of 6-7 lbs. (cut in pieces)
1.5 L Pinot noir or other red wine
1 Unsliced bacon slab
10 Small onions, diced
1 heaped tablespoon Flour
1/2 cup Butter
1 lb. Mushrooms
1 Boquet of herbs (thyme, bay-leaf, parsley)
2 cloves Garlic
Salt, peper, oil
Note
YOU WILL NEED THE FOLLOWING UTENSILS FOR THIS RECIPE:
Frying pan
Cast iron casserole dish
Glass salad bowl
Glass ramekin dish
Stainless ladle
Chinois mesh strainer
Wire whisk
Wooden spoon
Boning knife
Carving fork
Directions
Preparation
Step 1
This recipe requires the preparation of a marinade which will last for twelve hours.
Step 2
Place pieces of the bird in salad bowl along with the herbs, garlic, and red wine. Cover and marinate for 12 hours.
Step 3
Fry the bacon pieces in the casserole dish and set them aside, leaving the drippings.
Step 4
Withdraw pieces from the marinade and blot them slightly.
Step 5
Fry them in the dish with some additional oil.
Step 6
Strain the marinade into the casserole dish and return the bacon pieces to it as well. Cover and simmer for 1 1/2 -2 hours on simmer plate.
Step 7
Place pieces of the bird on serving tray and keep warm in the oven, set at 150 degrees F.
Step 8
Prepare the sauce by mixing 2 TBSP. butter with a heaping spoonful of flour.
Step 9
Whisk the butter and flour mixture into the marinade and reduce on the simmer plate.
Step 10
Cook the mushrooms in the frying pan with the remaining butter over high heat.
Step 11
Place the mushrooms on the serving platter with the capon pieces and pour the sauce over the mixture, serve.