Classic Herb Turkey with Orange-Tea-Bourbon Brine
Print recipe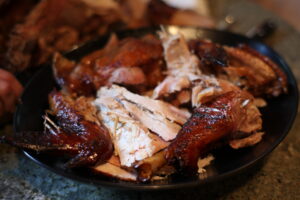 Ingredients
1 Turkey (Fresh or Frozen)
Zestand juice of 5 oranges (wide strips)
1 cup Sugar
12 Black Tea Bags
4 Bay Leaves
6 Cloves
12 Peppercorns
1 cup Burbon
4 sticks Unsalted Butter (softened)
Parsley
Dried Thyme and Sage
1 pinch Paprika
Ground Gloves
Directions
Step 1
Fill a large pot with 2 quarts water; add the orange zest, orange juice, 2 cups kosher salt, the sugar, black tea bags, bay leaves, cloves, peppercorns and bourbon. Bring to a boil, then simmer 10 minutes. Add 4 quarts cold water and let cool. Submerge the turkey in the brine, adding water to cover, if necessary. Refrigerate at least 8 hours or overnight.

Step 2
Remove the turkey from the brine; rinse and pat dry. Mix 2 sticks softened butter, 2 tablespoons parsley, 1 tablespoon dried sage and thyme, 1 teaspoon pepper, and 1/4 tablespoon paprika. and 1/8 tablespoon ground cloves.

Step 3
Put the oven rack in the lowest position; preheat the oven to 350 degrees F. Put the turkey breast-side up on a rack in a large roasting pan, tucking the wing tips under. Tie the drumsticks together with twine. Roast until the skin is golden brown and a thermometer inserted into the thigh registers 165 degrees F, about 15 minutes per pound. Transfer to a cutting board and let rest 30 minutes before carving.