Chicken Piccata
Print recipe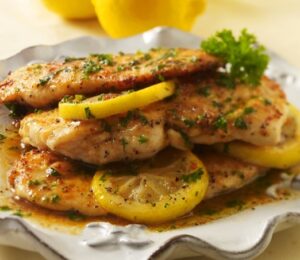 Thinly pounded, seasoned chicken breasts sautéed until golden brown and served with an easy lemon and caper pan sauce.
Ingredients
1 handful fresh parsley
1 Zest lemon
3 tablespoons lemon juice
3 teaspoons capers
5 tablespoons butter
5 tablespoons light olive oil for cooking
1lb chicken breast (naturally raised, thin pounded)
2/3 cups all purpose flour (for dredging)
5 teaspoons your favorite spice blend
2/3 cups organic chicken stock
1/2 cup dry white wine
Directions
Step 1
Season chicken breasts with salt, pepper and your favorite spice blend such as herbs de provence.
Step 2
Dust in flour, shake off excess.
Step 3
Heat oil in saute pan over medium heat, saute chicken breasts until starting to brown slightly. Remove and set aside to keep warm.
Step 4
Turn up the heat on the pan, deglaze with white wine, reduce by half. Add chicken stock, lemon juice, lemon zest and capers.
Step 5
Reduce mixture for a few minutes, turn off heat, throw in butter and parsley. Whisk in to slightly thicken the sauce, pour over cooked chicken.