Crêpes Parmentier
Print recipe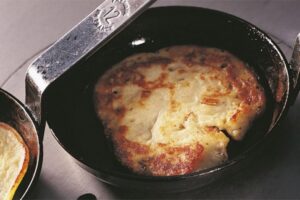 Ingredients
Ingredients
14oz Butter (3.5 sticks)
2 lbs. Peeled Potatoes
2 cups Milk
3 tablespoons Flour
3 Whole eggs
4 Egg whites
Salt
Note
YOU WILL NEED THESE FOLLOWING UTENSILS FOR THIS RECIPE:
1 Small pan
1 Small ladle
1 Glass ramekin
Vegetable mill
Wooden spoon
Hand mixer
2 Small frying pans
Directions
Step 1
Prepare clarified butter by heating in a small pan.
Step 2
When it starts to foam, skim the top delicately until it is quite clear.
Step 3
Reserve clarified butter in the small ramekin glass.
Step 4
Boil potatoes in salted water then work them through the mill into the salad bowl.
Step 5
Add milk and let cool.
Step 6
Incorporate the 3 spoonfuls of flour as well as the whole eggs one by one, then the egg whites.
Step 7
Blend batter with hand mixer to obtain consistency of thick cream. Warm the two small frying pans on the warming plate.
Step 8
For each serving, butter the frying pans and pour the batter; the wafers are formed by cooking on one side, then sliding into the other pan. Keep reserved crepes warm.