I had the opportunity to visit a client's home in beautiful north Capitol Hill in Seattle recently. Working with clients to select the main attraction in the heart of the home has its own payoff, as conversations about food, family meals and holiday feasts arise. Getting to see the end result is truly a special treat.
Simple roman crostinis with proscuitto, mozzarella, and rosemary butter (recipe below) were on the menu for my afternoon cooking date, where I had the opportunity to try out the petite electric oven featured in the Chagny.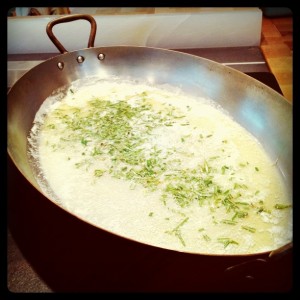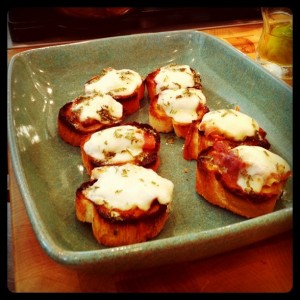 The lovely host told me that the Chagny's petite electric oven was absolutely perfect for toasting bread and roasting vegetables. She even said it would be spacious and capable enough to bake a pie! So much use for such a small space.
She chose the color Mandarine with brushed stainless trim for her golden kitchen. The space exemplified the fact that bold colors need not be flashy nor over eccentric, but simply cheery and bright.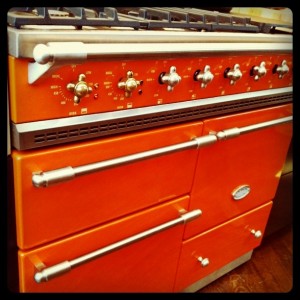 The Chagny lives in the center island of the kitchen, and in this brilliant set-up, the oven is not the focal point of the room, but allows the cook to have the perfect view of the kitchen, being able to face and interact with others in the room.
I learned from her that a standard cookie sheet WILL fit into the small compact oven featured on the Cluny and Chagny models!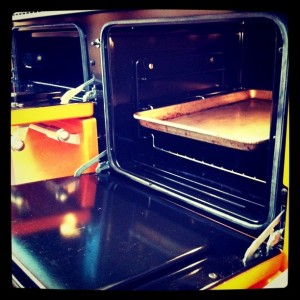 The kitchen also featured artful glass lighting sculptures and a highly practical open shelving unit that stores and displays a large collection of platters and teapots.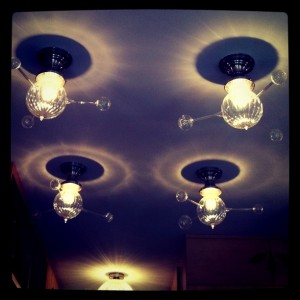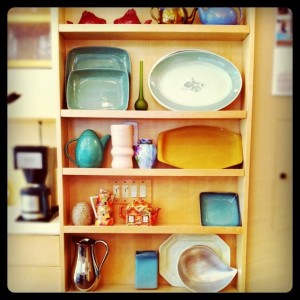 Our afternoon snack was simple perfection. Here's the link to the recipe from Food Network for you to try: http://www.foodnetwork.com/recipes/giada-de-laurentiis/crostini-alla-romana-recipe/index.html