This week I hosted an afternoon late lunch meeting with a client who was deciding between the Classique vs. Traditional Cluny. I decided that a good pot of chicken soup would help her decide whether or not the Traditional French Plate was complementary to her cooking style.
I shopped for some fresh veggies and herbs (soup staples: carrots, celery, onion along with my favorite flavor boosters for chicken soup: thyme and Italian parsley) and chopped them prior to her arrival.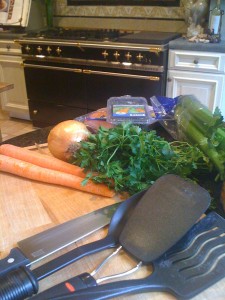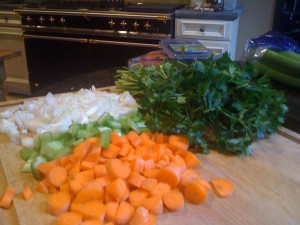 There's something lovely about cooking on a marble top wine barrel.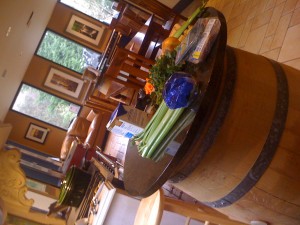 My guest was also curious to see the baking potential for the smaller oven. I pre-heated the electric oven and broke into our stash of cookie dough, placing them on our pastry sheets which fit snug on the oven racks.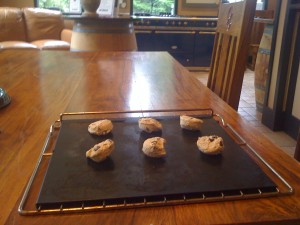 The Cluny sheets will fit 9 cookies perfectly, which is smaller than average, but feasible considering the double ovens. I love the way the cookies turn out on the pastry sheets-they never stick and are easy to clean. Plus, the compact oven ensures that each cookie turns out the delicious same.
Chicken soup was a nice afternoon crowd pleaser on a cold day. The French plate created a perfect, steamy, even simmer on the thick soup pot and our client, a frequent soup chef in winter, decided the French plate was the right choice for her.