Lacanche Testimonials
[Our Cluny] is the best constructed range that we had ever encountered. If Lacanche made refrigerators, dishwashers, disposals, washers and dryers, I'd buy them up. Buying a major appliance sight-unseen was doable only because [Art Culinaire was] always available to answer our questions and offer assurance. We appreciate [the team's] professionalism and great sense of humor.
Rosemary & Jim, Latrobe, PA
Cluny
The range is beautiful in all respects. Everything I've done so far has turned out great.
Amy S., Portola Valley, CA
Fontenay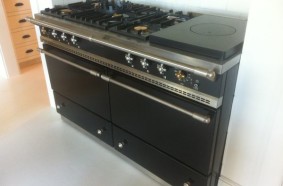 When remodeling our kitchen we explored all types of ranges and selected the Lacanche traditional plate classique in matte black with stainless and brass knobs. The range is beautiful and truly a conversation piece in our kitchen. But, more importantly, the Lacanche range's function equally matches its form. We entertain often and cook various ethnic dishes that require high heat, searing, sauteing and warming. The flexibility of the range and accuracy of the electric and gas ovens have lead to many successful dinner parties!
Gary D., St. Charles, IL
Sully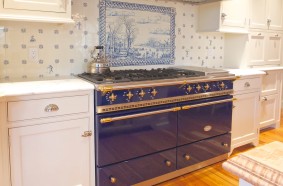 The Sully. Seriously. Why wouldn't you get full-size double ovens? At Easter brunch we put ham in the gas oven and hot cross buns in the electric. At Thanksgiving its turkey in the gas, pumkin pie in the electric. At Christmas it's prime rib in the gas and pecan pie in the electric.  There's really no question- the Sully is where it's at for entertaining. P.S. If you run out of oven space, there's about four and a half feet of burners we haven't even talked about yet.
Cindy H., Edmonds, WA
Sully
I absolutely love our Sully Range.  We thought this might be a difficult process, importing a range from France, but with all of you it was the easiest thing in our renovation!!!  What an AMAZING company!  The customer service is top notch along with the product!!  We are happy to open our home to show any prospective buyers in the area.
Maryrose Cutrino, Haddonfield, NJ
Sully