Lacanche Testimonials
I have a very simple, white classic kitchen.

My 27.5" adorable black enamel Lacanche range makes the space unique and memorable.

I feel very chic and a little smug.

THANK YOU Lacanche for the breath of fabulous!
Barbara O., Philadelphia
Cormatin
I have yet to encounter in my experience a level of customer service as attentive and courteous.
Jeff B., Northport, NY
Cormatin
The range is beautiful in all respects. Everything I've done so far has turned out great.
Amy S., Portola Valley, CA
Fontenay
Art Culinaire has the most amazing customer service of any company I have ever dealt with, hands-down.
Todd S., Atlanta, GA
Cluny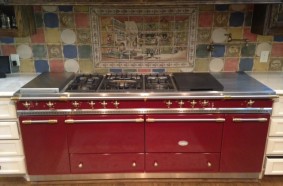 Oh my.....2-3 sentences is just not enough to explain how wonderful our Sully 2200 is. Not only is it stunningly beautiful (cranberry and brass), it is a true workhorse. The range and all the components exceeded all our expectations and makes cooking soooo much fun!!!!!    I call it my "highly functional kitchen jewelry".
Linda S., Argyle, TX
Sully 2200