Lacanche Testimonials
The range is beautiful in all respects. Everything I've done so far has turned out great.
Amy S., Portola Valley, CA
Fontenay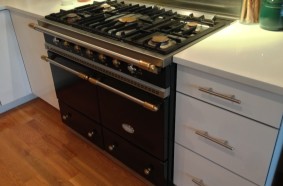 When we were looking to upgrade, we wanted more than a workhorse range. We wanted a war horse. A gorgeous war horse. That's what our Cluny is. She's solid, beautiful and reliable. Magnificent, basically. And the folks at Lacanche are fantastic. From our first visit to post-delivery service, everyone have been super helpful, friendly, and all-around awesome. We couldn't be happier. It's like a little piece of Burgundy washed up in Brooklyn.
Jonny S., New York City
Cluny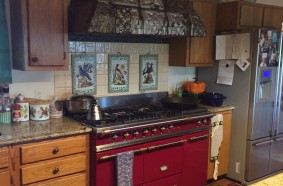 I love this stove and can't imagine cooking on anything else! I am an Iowa country girl, who cooks everyday for family and friends! My stove cleans up remarkably well! I am impressed with the way the stainless steel cleans up. When I say I use it that is an understatement ! It's still beautiful. A couple of weeks ago I made about 25lbs of Carnitas. That's a lot of pork and lard cooking on the stove. I simmered it in a very large stainless bowl for six hours on the simmering burner with no sticking! I can't tell you how many people I feed off this stove! It's very used and loved! So.. you can tell this is one very happy LaCanche owner.
Mary A.
Cluny 1400
I absolutely love our Sully Range.  We thought this might be a difficult process, importing a range from France, but with all of you it was the easiest thing in our renovation!!!  What an AMAZING company!  The customer service is top notch along with the product!!  We are happy to open our home to show any prospective buyers in the area.
Maryrose Cutrino, Haddonfield, NJ
Sully
I have a very simple, white classic kitchen.

My 27.5" adorable black enamel Lacanche range makes the space unique and memorable.

I feel very chic and a little smug.

THANK YOU Lacanche for the breath of fabulous!
Barbara O., Philadelphia
Cormatin