Hearth and Home
Food and fire remain timeless catalysts for bringing people together. Home and hearth historically evoked thoughts of safety, warmth and comfort. In the 21st century, we're still gathering, if not around an actual fire, certainly in front of the kitchen stove.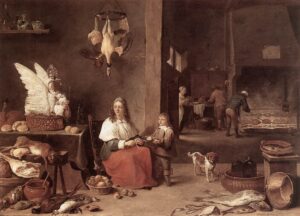 After more than 20 years, Art Culinaire's mission remains "bringing family and friends back to the table." Cooking and gathering beautifully reflects the medieval, pre-refrigeration necessity of preparing seasonal cuisine and sharing with around the table. Otherwise, food often spoiled. Today, we're genuinely thrilled to celebrate a newly commissioned range, knowing our clients appreciate the truly good things in life: family, friendships, community…with savory cuisine, of course!
We invite you to participate with the Lacanche community in several ways: be part of our Lacanche ambassador program, sign on to our online Lacanche Owner's Forum, or by joining the social networking revolution via our Lacanche Fan Club on Facebook, Twitter, Pinterest, and more.